Twelfth Undergraduate Research Conference Nov. 29 at SMSU
Published
Friday, November 17, 2017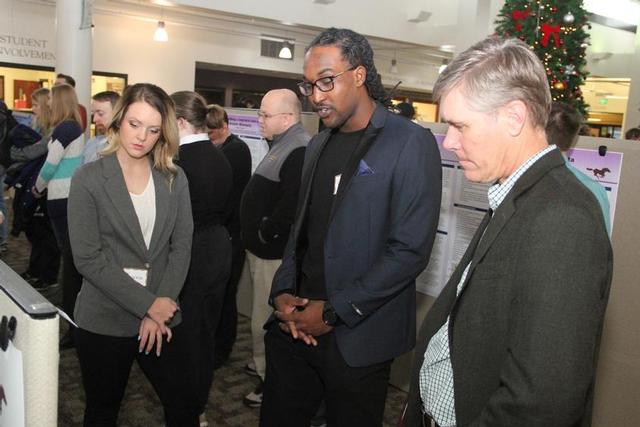 Undergraduate Research Conference
The 12th annual Undergraduate Research Conference will be held on Wednesday, Nov. 29 from 8:30 a.m.-5 p.m. at Southwest Minnesota State University.
Research projects from SMSU students representing 22 academic areas will be featured, according to Dr. Emily Deaver, Professor of Environmental Science and the event's originator. "The conference has continued to grow since the first year. It's nice to see so many students in so many different majors participate."
This year over 200 students will participate in either oral or poster presentation. Deaver anticipates the number will surpass last year's all-time high.
Several students have conducted research related to the 50th anniversary of the University, such as "The SMSU Writing Center: Then and Now." These history-related presentations are indicated in the program with a "50" emblem.
SMSU President Dr. Connie J. Gores will give a welcome at 8:30 a.m., followed by a keynote address from 2012 SMSU alumnus Wokil Bam, an oceanography Ph.D. student at Louisiana State University. Bam was named a Gulf of Mexico Research Initiative (GoMRI) scholar in 2014 for his research examining the effects of oil spills on terrestrial arthropods and seaside sparrows. He will talk about the importance of undergraduate research experiences, the benefits of research relative to a future career, and his current ongoing research.
The conference will take place at several locations across campus. Oral presentations will be held in the Conference Center Upper Ballroom and Charter Hall 201, while poster presentations will be held in the Conference Center Lower Ballroom, the upper level of the Student Center and the Library Plaza area.
Poster and oral presentations begin at 9:45 a.m. Oral presentations consist of PowerPoints about the students' research topic, followed by a short Q&A session.
Poster presentations are created using a template and are printed in the GIS Center at SMSU. The posters are the same quality as those used at professional conferences.
The conference continues to include more academic programs each year. "We have 22 programs represented in 2017 with the addition of Culinology students," said Deaver. This year 35 different faculty advisors are involved in guiding the students' research.
The Undergraduate Research Conference originated when Deaver and Environmental Science Professor Dr. Thomas Dilley undertook an Environmental Science program review. "We realized the students needed more experience doing original research and then presenting their findings," said Deaver. She took the ball and ran with it, and is proud of its growth, and the fact other academic areas have continued to join this yearly event.
"There is national recognition now about the importance of undergraduate research," said Deaver. "More and more we are hearing from faculty members what a difference it makes in their students' development."
Students will explain their project to the public, and others within the university community, during the day. The conference normally attracts about 500 viewers, including students, faculty, family, friends, university faculty and staff, as well as staff from regional scientific agencies.
Those wanting to find a particular student presentation can check at the table on the upper level of the Conference Center for a program listing the full schedule for the day. The schedule and list of research projects is available online at: www.smsu.edu.
The conference is free and open to the public.
For further information, call 507-537-6171, or email: Emily.Deaver@smsu.edu.