Student Senate Leads 'It's on Us' Initiative
Published
Monday, November 16, 2015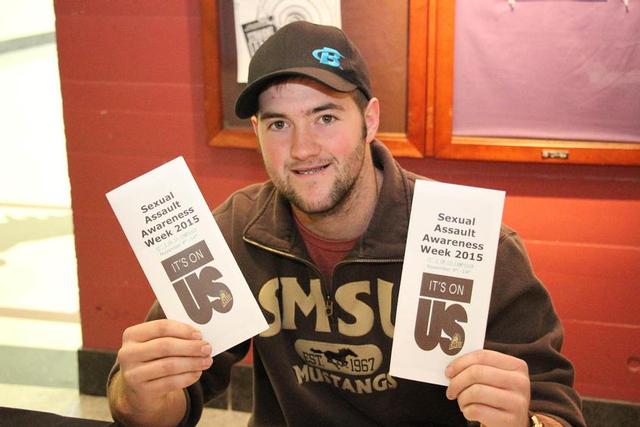 Shane Vogt worked on the 'It's on Us' campaign
The SMSU Student Senate coordinated the Nov. 9-13 "It's on Us" sexual assault awareness activities, and organizers are pleased with the response from SMSU students.
"I think the campaign is truly helping to stop sexual assaults on campuses," said Taylor Chavez, chairperson of the Student Senate University Affairs committee. "I am a firm believer in the campaign because we as a society need to make a change and I believe that this is the start to making that change. People need to become educated and learn the cold truths about this issue and this campaign did that in a respectful way."
The goal of the "It's on Us" campaign was to shift the way people think about sexual assault by inspiring everyone to see it as their responsibility to do something, big or small, to prevent it.
Student Body President Ashanti Payne explained that Student Senate organizers had an informational table set up in the Student Center throughout the week. Sexual assault information was presented to students, who were then asked to take a pledge and signing their name on a sticker, and placing that sticker on a large banner that was on display.
"It was well-received," he said. "I give a lot of credit to Jazmyne Neely and Taylor Chavez, they really took the lead on this."
Neely, the Senate Student Affairs chairperson, said the campaign "speaks for itself, 'It's on Us,' as Mustangs, to change the culture of sexual assault. We can be part of the solution, and not the problem. This is a campaign I'm passionate about and take very seriously and I think it allowed us to get our students involved in a very relevant problem in our society, especially for those that are on college campuses all over the country."
"It's on Us" is a national initiatives started by President Barack Obama and Vice President Joe Biden. It's a campaign, too, supported by SMSU President Dr. Connie J. Gores.
"I'm impressed with the way our Student Senate took on this national topic," she said. "It's a topic that we need to address, and our student leadership helped raise awareness on our campus."
Those wishing to learn more about the campaign and take the pledge can visit the website: itsonus.org.