The SMSU Jazz Ensemble performs a variety of standard and new jazz works of all difficulty levels and styles. Emphasis is placed on the authentic performance of this truly American style of music and enhancing technical and theoretical skills associated with playing this music.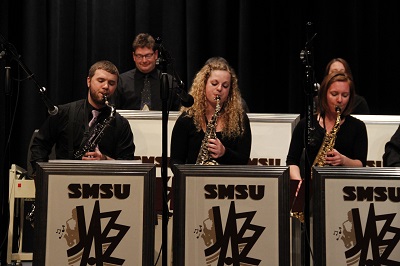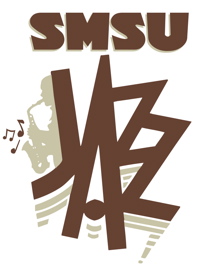 Participation in the Jazz Ensemble is open to all SMSU students.
As part of the SMSU Band's Guest Artist Series the Jazz Ensemble hosts and performs with guest jazz performers from around the country. Recent guest-clinicians have included:
Mr. Larry McWilliams, trumpet (2007)
Dr. Michael Flack, piano (2008)
Mr. Jim Snidero, alto saxophone (2009)
Mr. Dennis Wilson, trombone (2010)
Dr. Matthew Murdock, trumpet (2010)
Mr. Rodney Whitaker, bass (2011)
Mr. Michael Philip Mossman, trumpet (2012)
Mr. Antonio Hart, alto saxophone (2013)
Dr. Bill Prince, multi-instrumentalist (2014)
Mr. Conrad Herwig, trombone (2015)
Mr. Mike Clark, drum set (2016)
Mr. Larry McWilliams, trumpet (2016)
Mr. Rob Dixon, saxophone (2017)

This year the Jazz Ensemble is pleased to host the Dakota Jazz Quintet as part of the series.
The Dakota Jazz Quintet is comprised of current and former faculty from South Dakota State University as well as area professional musicians.  The group performs regularly around the state of South Dakota as part of the South Dakota Arts Council program.  They also play for university and local events in Brookings, S. Dakota, and the surrounding area.

**Unless noted, all performances are Free and Open to the Public**

September 29, 2017
University Gala (Social Hour performance)
approximately 6:00 p.m.
RA Facility
(contact the SMSU Foundation for ticket information)

December 4, 2017
7:30 p.m. in the Fine Arts Theatre
"My Favorite Things"
featuring guest ensemble, the Dakota Jazz Quintet

The program will feature some of our favorite things about jazz including:
  Selections from "Kind of Blue" by Miles Davis,
Selections featuring our guest ensemble as well as SMSU vocalists,
Selections with "unique" titles like "Does this Chart Make Me Look Phat" by Gordon Goodwin,
not to mention "Raindrops on roses and whiskers on kittens..."

April 2, 2018
"All-City Jazz Festival"
Featuring jazz bands from the Marshall Public Schools and SMSU
Schwan Community Center for the Performing Arts, 7 p.m.

April 16, 2018
  Spring Concert
Fine Arts Theatre, 7:30 p.m.
For more information about the SMSU Jazz Ensemble, or to book the Jazz Ensemble for a performance, contact
Dr. John Ginocchio by email at John.Ginocchio@smsu.edu, or phone at (507) 537-7209.
           
What a Wonderful World--12/9/2013
 The SMSU Jazz Ensemble performs the Louis Armstrong classic, "What a Wonderful World" along with SMSU vocalists, Alyssa Fator, Luke Nelson, and Noah Anderson.
Morocco--12/9/2013
The SMSU Jazz Ensemble performs "Morocco" by Russ Freeman.
Last Modified: 9/26/17 2:46 PM