IT'S FLU SEASON, MUSTANGS!
Getting an annual flu vaccine is the first and best way to protect yourself and your family from the flu. Flu vaccination can reduce flu illnesses, doctors' visits, and missed work and school due to flu, as well as prevent flu-related hospitalizations. The more people who get vaccinated, the more people will be protected from flu, including older people, very young children, pregnant women and people with certain health conditions who are more vulnerable to serious flu complications. 
Student Health Services has secured flu vaccine for the 2016-2017 season at this time!  Cost of the shot is $15 and will be charged to your student account.  Please call 507-537-7202 to schedule an appointment.
STAY HEALTHY...STAY STRONG!
Check the
calendar
for clinic details and follow us on Twitter and Facebook for updates regarding office hours.  Conveniently located on campus: Bellows Academic 158
Not feeling your best?  Call  507-537-7202 to schedule an appointment today.
---
Health Services provides free and confidential services, including medical evaluations, for registered students.  There is a small fee for laboratory tests, certain medications, supplies, and sports physicals.  We also assist students with off-campus referrals as necessary.  In the interest of health and wellness for all SMSU students, staff and faculty, Health Services actively promotes a tobacco and vapor free environment.
Thinking about quitting?
Click on the box below to learn more about services/resources available!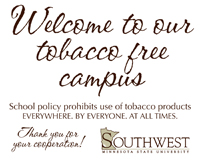 Fall and Spring Hours
A Registered Nurse is available for consultation Monday through Friday from 9am-4pm while classes are in session.    'Walk-ins' are welcome or you may call (507) 537-7202 to leave a confidential message.  Medical Providers are available on site Mondays, Tuesdays and Thursdays from 1-4pm.  Please schedule an appointment.
Summer Hours
Health Services is not fully staffed during the summer. A Registered Nurse is availble for non-urgent medical concerns on a limited basis. Please leave a brief message with your name, phone number and concern at (507) 537-7202 to schedule an appointment.  All messages are confidential.
Urgent/Emergency Care
If you have a medical emergency dial 911
ACMC Urgent Care: (507) 532-1101
Avera CuraQuick: (507) 532-4450
                                    Avera Marshall Regional Medical Center Emergency Room: (507) 537-9300                                           
If you are thinking about hurting yourself or concerned about someone, call the National Suicide Prevention Lifeline:  1-800-273-TALK (8255) toll-free 24 hours/day or Western Mental Health Center Mobile Crisis Response Services: 1-800-658-2429
Prolonged Illness
Students are advised to report pertinent medical facts to Health Services so instructors may be notified in cases of prolonged illness. We do not contact instructors for short-term illnesses or provide excuses for missed classes; it is the responsibility of the student to contact the instructors for assignments. Should a student find it necessary to withdraw from classes for medical reasons and they are unable to withdraw in person, they should contact the Advising Center for further details and implementation of the withdrawal.
Medical Records
If you need access to specific medical records you must submit a Consent to Release Health Information to SMSU Health Services. Immunization information submitted by the student cannot be duplicated or released as it is a 'self-report' form rather than an original document of the medical record completed within Health Services.
Tweets by SMSUHealth
Last Modified: 1/25/17 9:14 AM