Stanwick, Chartwells Strive to Offer Positive Dining Experience
Published
Monday, October 08, 2018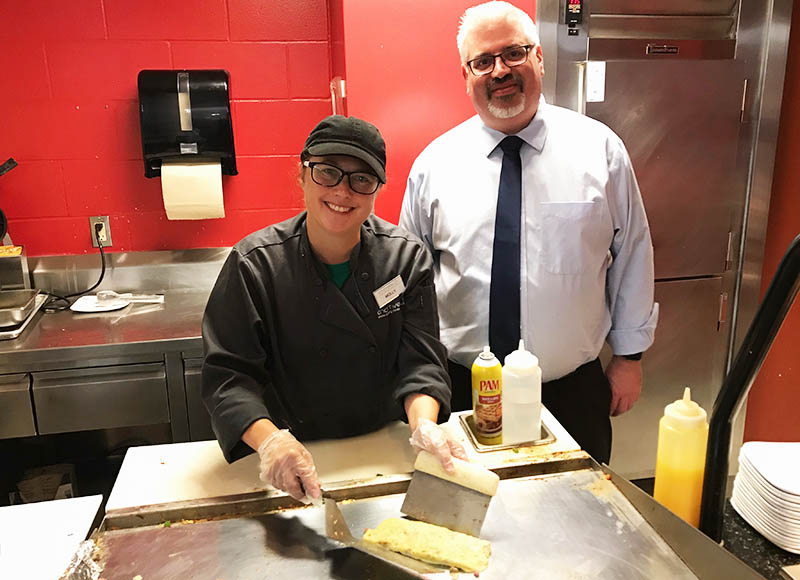 Chartwells Dining Services pride themselves in being a place where "hungry minds gather" and where they put students' food needs first. These important principles are the driving force behind every decision made regarding SMSU's campus dining.
This year, SMSU's Dining Services welcomes Don Stanwick, Director of Dining Services at Chartwells at Southwest Minnesota State, who has 30 years of experience in the restaurant and dining business.
Stanwick started as busboy and then moved on to bartender, manager of an ESPN Zone and Dave and Buster's and, later, Director of Dining Services at Stetson University, Washington College, and Barry University before joining SMSU's Dining Service in July of 2018.
Regardless of where he goes, food quality and customer satisfaction tops his list of priorities. "I refuse to sacrifice standards to earn an extra dollar" Stanwick states. Although there are safety guidelines all food service must follow, Chartwells standards go above and beyond those precautions, he said. To guarantee quality and customer service, they keep a detailed log to track food quality, popular menu items and current trends.
 "Today's students are more aware of where their food is coming from and what's in it," Stanwick claims. This creates students who appreciate the digital board providing information about the serving size, calories, total fat, protein and total carbs. Students appreciate seeing where the food is made, they like it fresh, and they like it quick. Although this provides a challenge for Stanwick and the dining service chefs, they prefer providing students with meals they enjoy and are proud of rather than quick buffet-style dinners. In fact, the majority of meals prepared in the dining service area are customized and cooked-to-order.
This variety is created by having unique sections throughout the dining area, including homestyle cooking, breakfast, grill, hearthstone, Asian, Baker's crust and the bakery along with a G-8 section, which serves those who need allergen-free meals. Chartwells also prides itself in valuing sustainability. "We are conscious about what we serve and careful about what we buy," he says.
It seems comfort food, such as chicken strips and mac and cheese, still top the list of favorite menu items. Stanwick also estimates they use "70 pounds of burgers daily, 40 pounds of grilled chicken breasts, 15 gallons of chocolate milk, 150 pizzas a day and serve anywhere from 200-300 omelets a day."  Other popular menu items are stir-fry and wings. In fact, they recently served approximately 300 pounds of wings recently at dinner.
Stanwick and his management team watch trends and data carefully. They pay attention to what is selling quickly and what goes uneaten, what menu items sell well together and what items may benefit from being served on a different evening with different menu items. "We are always playing around with the menu to see how items go," Stanwick states.
He currently has 23 full-time employees and 20 student employees. He could use several more full-time and student employees, though, because currently many are working six days a week and 10-12 hours a day. "Hiring employees is a challenge, especially when you drive through the streets of Marshall and see everyone is hiring," Stanwick says.
Dining Service at Southwest Minnesota State includes the Residential Restaurant, Food Court, Coffee House @ SMSU, Mustang Express, Mando's subs, concessions at campus events, and catering. The variety of services creates a busy atmosphere, especially when the main restaurant serves around 1,200 meals a day Monday-Friday.
Each section of the dining service is unique. The Coffee House creates a drink of the week. Items such as Strawberry Lemonade go over well during warm summer and fall days. Stanwick imagines there will be pumpkin-flavored drinks showcased shortly. The drink of the week is created based on past customer favorites and the season. He claims it is challenging to predict the weather, so sometimes they feature a warm drink when students would prefer to drink a cold drink on an unseasonably warm day.
In September, there were 45 catering events on campus. Chartwells is also in charge of providing food for the Schwan Regional Event Center suites. Some weeks, like during Homecoming, campus dining may provide food options for 20 events, from small meetings where they serve boxed lunch to events like the University, a formal dining event.
Stanwick wants students to be involved in all aspects of the Dining Service. "I want students to have a say. I want our menu and services to be driven by students and want them to be proud of what we offer."  Beginning soon, Stanwick will begin working with a student food committee which will allow students to provide feedback on menu ideas, special events and promotional items.
Another upcoming change will be allowing students to provide feedback using a Text 2 Solve app along with the current Dineoncampus.com option. Both of these allow students to bring up issues which may arise throughout their dining experience. "I can't fix a problem I don't know is there," Stanwick states. Therefore, he hopes students take advantage of the opportunity to communicate with him. "I want them to be honest. I want them to be proud of the program. I want to be the best." So, Stanwick hopes students provide program suggestions and share concerns or praise. "With so many customized meals, I can't make sure everything is perfect all the time. We make mistakes, but we need to know how to fix it." This is where students can help.
Another suggestion Stanwick states is, "Kindness goes a long way. Say thank-you and clean-up your eating area." Stanwick praises the Dining Service employees who are doing a great job and are one of the best group of people he has worked with. "I can praise them and tell them they are doing a good job, but it makes a huge difference when it comes from the students," he said.
As "hungry minds gather," Stanwick hopes students are proud of their food service, they provide feedback when possible and continue to put "Food First" when they are gathered together on campus!