EMPHASIS OF PROGRAM
The Education Department now includes faculty members in PE and Health who offer programs in physical education, recreation, and sport management, with minors in coaching, adapted physical activities and DAPE (Developmental Adapted Physical Education).
Physical Education teaching majors gain knowledge and experience through courses, fieldwork, service-learning projects, pre-student teaching and student teaching. Education students are placed in the public schools beginning in their freshman Introduction to Education course and this continues throughout their SMSU careers to gain experience in the field. Students may also receive the Developmental Adapted Physical Education (DAPE) licensure upon completion of the minor certifying them to work with students with disabilities. Since licensure to teach is a professional program, formal application for admission to the Education Program is required during the sophomore year. Application forms may be obtained in the school of Education office. There is a minimum GPA requirement of 2.8 from all colleges and universities attended, plus other requirements, such as taking the Basic Math, Reading, and Writing MTLE exams and receiving a score of 201 or higher. Persons with previous degrees and/or current licensure interested in adding a licensure field or endorsement may apply to SMSU and have their transcripts sent (if not from a Minnesota State school) to have a transcript review of what courses they would still need.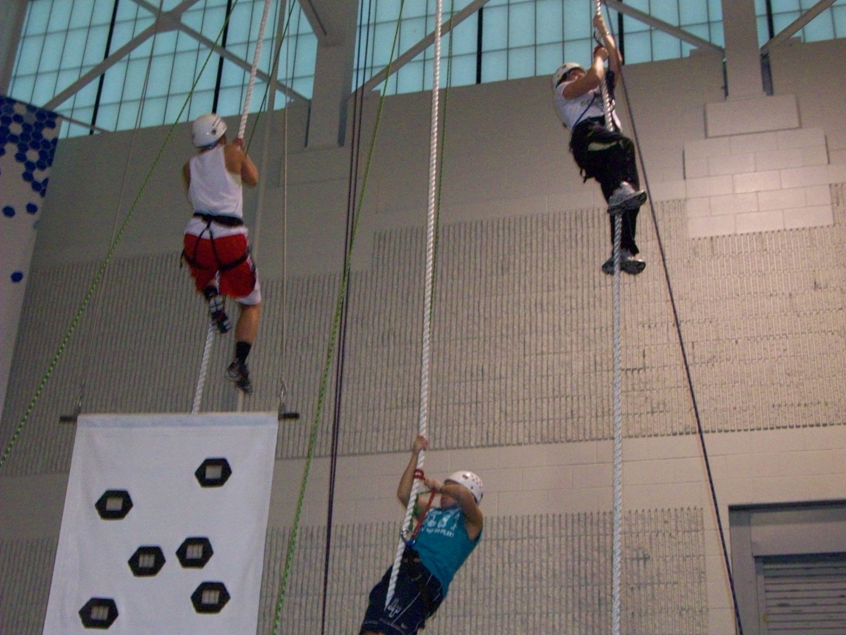 FACILITIES & SERVICES
Facilities available to students include: an exercise science lab, indoor tennis courts, computer lab, dance studio, gymnastics room, wrestling room, Olympic-size pool and diving well, three racquetball courts, free wireless access to the internet, seven indoor basketball/volleyball courts, an indoor field house with a running track, a fitness center with free weights and exercise equipment and a Regional Event Center. Outdoor fields are used for softball, baseball, football, intramurals, soccer and the nature trail is used for running, walking, and cross-country skiing.
ACTIVITIES
Physical Education teaching majors are encouraged to gain experience through praticums, fieldwork, and work-study jobs in intramurals, fitness centers, and aquatics. Students participate in public school classroom observation and teaching, State and National conventions, student research projects, and faculty/student mentorships. Majors in Physical Education - teaching have presented at Regional, State, and National conferences.
ACTIVE/SERVICE LEARNING
Within the Physical Education teaching major, students will have multiple opportunities to observe and teach in classrooms throughout the community. In addition, students may experience service learning activities such as the Special Olympics and Home School Activities. In these settings, students connect and apply classroom content and experiences to practical career settings.
PLACEMENT OPPORTUNITIES
Graduates will have a wide variety of career opportunities including teaching K-12 public/private school physical education and graduate school. DAPE minors will be licensed to teach students with disabilities.
CLUBS & ORGANIZATIONS
Bowling Club
Shotokan Karate Club
Track and Field Club
SCHOLARSHIPS
Incoming students may be eligible for a number of academic and leadership scholarships through the Office of Admission. These scholarships are awarded based on a student's past academic performance including ACT score, GPA, class rank, and leadership activities. The Education Department also offers an annual scholarship to a returning student who has demonstrated good academic performance, leadership ability, and participation in the major's club.
CONTACT INFORMATION
Physical Education Program - Office
IL 229, Southwest Minnesota State University
1501 State St.
Marshall, MN 56258
ACADEMIC COMMONS
The Academic Commons is a study center located in IL 224. Students are invited to study, meet friends, and seek assistance with coursework.
Our Mission is to create enhanced opportunities for learning by bringing an array of student academic support services together in a central, visible, and academically-identified location to facilitate seamless access to services for SMSU students and education resources for the wider community.
FRESHMAN ADMISSION PROCESS
Complete Application
$20 Non-refundable Application Fee
Official High School Transcript(s)
ACT or SAT Test Scores
FRESHMAN ADMISSION REQUIREMENTS
Rank in the upper half of graduating class
Score a composite of 21 or above on the ACT or 990 on the SAT
Last Modified: 9/11/18 11:48 AM