The purpose of the guest artist series is to provide opportunities for the students at SMSU to interact with and learn from professional musicians from throughout the country.  In addition, area schools benefit from clinics with these artists and the citizens of Southwest Minnesota have the opportunity to see these artists in free performances.
2017/2018 Guest Artists
Eduardo Tami
Eduardo Tami is a flautist from Argentina.  He leads an ensemble known as The Tami Tango Trio which includes pianist, Leandro Marquesano, who will accompany him for this residency.  In addition to rehearsing and performing with the SMSU Jazz Ensemble on September 22, 2017 in the SMSU Fine Arts Theatre, they will also speak present sessions on the history and evolution of Argentinian tango music to all the Spanish classes and the Survey of World Music class.  They will also present a workshop on authentic tango performance for the SMSU music majors.

Dakota Jazz Collective
     Jeremy Hegg (piano/vocals)
     Joel Shotwell (saxophones)
     Jim Speirs (trumpet)
     Jim McKinney (drums)
     Andrew Reinartz (bass)
Dakota Jazz Collective is a Sioux Falls-based ensemble rooted in the classic and contemporary sounds of jazz. Featuring a horn driven ensemble, members of DJC have developed a strong reputation as some of the region's finest and most recognized jazz musicians. Celebrating the local jazz scene, committed to jazz education, and performing across the region, Dakota Jazz Collective shares their passion for jazz with every performance.
Monday, December 4, SMSU Jazz Ensemble with guests, the Dakota Jazz Collective, SMSU Fine Arts Theatre, 7:30 p.m.
Performances are Free and Open to the Public.  For more information, call Dr. John Ginocchio at (507) 537-7209, or the Music Program at (507) 537-7103.
Previous Guest Artists
Mr. Rob Dixon, 2017                   34th Infantry Division Band, 2017
Tenor/Soprano Sax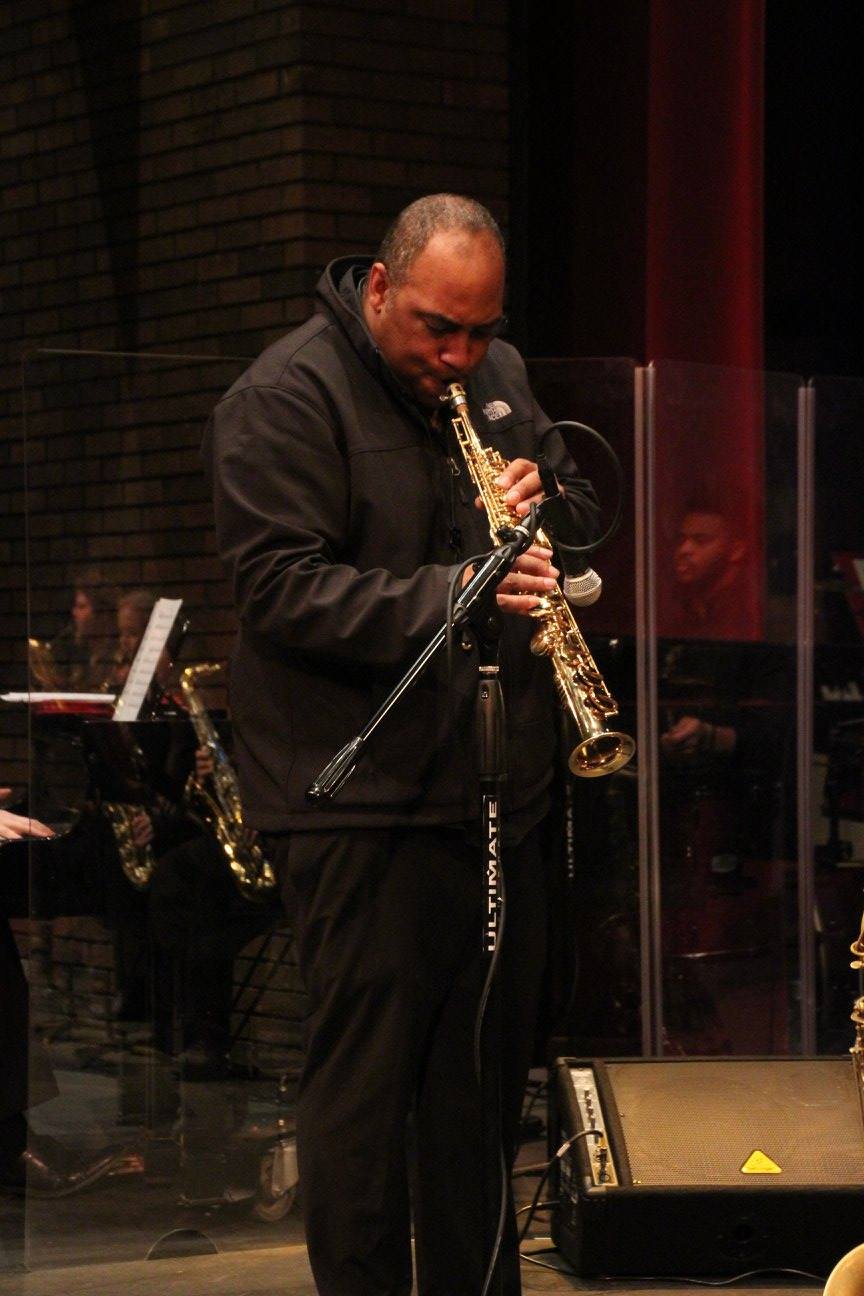 Mr. Mike Clark, 2016            Dr. Tristan Eggener, 2016     Mr. Larry McWilliams, 2016
Jazz Drum Set                     Tuba                                      Trumpet
Mr. Conrad Herwig, 2015      Dr. James Ackey, 2015      Mr. Carl Choi, 2015
Jazz Trombone                      Trumpet                              Conductor
Bill Prince, 2014                            Trent Lockhart, Airman First Class, 2014
Jazz Multi-instrumentalist              Bass Trombone
Mr. Antonio Hart, 2013                    Dr. James Borowski, 2013
Jazz Alto Sax                                   Bass Trombone
Mr. Michael Philip Mossman, 2012       Mr. Eric Starr, 2012
Jazz trumpet/trombone                         Trombone
                         
Mr. Rodney Whitaker, 2011           Dr. Daniel McCloud, 2011
Jazz Bass                                        Percussion
                 
 
Mr. Dennis Wilson, 2010    Mr. Ryan Fraley, 2010     Dr. Matthew Murdock, 2010
Jazz Trombone                   Composer                        Jazz Trumpet
Mr. Jim Snidero, 2009
Jazz Alto Sax
Dr. Michael Flack, 2008                 Dr. Christian Zembower, 2008
Jazz Piano                                      Conductor
Mr. Larry McWilliams, 2007        Dr. Anthony Pursell, 2007
Jazz Trumpet                               Conductor 
Last Modified: 10/23/17 9:05 AM