507-537-7139
Daniel.Rieppel@smsu.edu

Pianist Daniel Rieppel, a native Minnesotan of Austrian descent, holds performance degrees from the Cleveland Institute of Music, Indiana University, and a Doctor of Musical Arts degree from the University of Minnesota. His principal teachers include Jack Radunsky, Leonard Hokanson, John Perry, and Lydia Artymiw. As a DAAD Scholar in Munich, Germany, he was a member of the Meisterklasse of the eminent pianist Gerhard Oppitz. Upon relocating to the Twin Cities in 1990, Dr. Rieppel made his Ordway debut recital, which was broadcast by MPR. He has worked often as a chamber musician with members of the Minnesota Orchestra, the St. Paul Chamber Orchestra and his new chamber ensemble, The Schubert Trio. As a soloist, he has appeared with the South Dakota Symphony, the Bloomington Symphony Orchestra and the Metropolitan Symphony Orchestra, among many others.
As a recipient of several travel grants from the Center for Austrian Studies at the University of Minnesota, he has conducted research in Vienna on Schubert's piano sonatas manuscripts. His research has garnered invitations to lecture and perform in New York City, Oxford University and University of Leeds, England and Vienna. He has published articles on early Schubert keyboard works for several journals, including Durch die Brille, from the Internationales Franz Schubert Institute. His work on Schubert was recently recognized with a Fulbright Research Scholar award to Vienna, where he did archival research on Schubert's piano sonatas between March and June 2004. As a conductor, Dr. Rieppel was one of fifty pianist-conductors chosen nationwide to work with Chicago Symphony Orchestra's Music Director, Maestro Daniel Barenboim, at his workshop in Carnegie Hall. Dr. Rieppel has performed twice for the US Ambassador in Panama City, Panama in honor of the Republic's Centennial of Independence, as well as in a concert at her annual 4th of July celebration. He performed a duo recital in Salzburg, Austria with the Austrian violinist Risa Schuchter as part of the festivities celebrating Mozart's 250th anniversary of his birth in that city.
Dr. Rieppel serves as Associate Professor of Piano at Southwest Minnesota State University and Music Director of the Southwest Minnesota Orchestra. He also serves on the faculties of Webster University, Vienna and the St. Paul Conservatory of Music.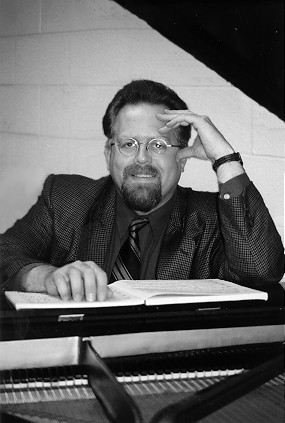 Last Modified: 3/13/17 6:42 PM