Welcome to Residence Life at Southwest Minnesota State University!
As part of our community, you will have many opportunities to influence your living environment. A residence hall is more than a place to live.  It is a place to learn and grow as individuals. We will make every effort to make you feel at home while you live in our halls.
---
Make Connections.
You'll make new friends quickly when you live in one of SMSU's Residence Halls. Resident Assistants connect students to all kinds of events and programming to help you make the most of your campus life. You have your whole life to live off-campus. Live close to everything. Live engaged in academics, activities, and community. Live supported by other students. Live connected to the campus community. Prepare for a life-changing experience. Live on campus and live your best life. #LiveLifeOn

Are you coming to SMSU?
Our Online Housing Application is available through the New and Prospective Residents link on the right side of this page. Click on the top link "Apply for Housing" and you will be taken to E-Services to step through the application process. We're looking forward to meeting you!
IMPORTANT - All Residents - New and Current
SouthwestNet is a collection of apps you will use throughout your career at SMSU.
If you haven't done so already, please go to SouthwestNet and fill out the information we need from you.
Along the top of this page, click on Quick Links.
Click on the SouthwestNet link to be taken to the login page. 
Once logged in you will see a collection of Student Portal Apps much like this:
We need you to fill out those apps marked by the red exclamation points,
(which may be all three under Campus Related on your personal page)
but ESPECIALLY fill out the Emergency Contact app
AND the Resident Responsibility Form listed under Residence Life.
Thank you!
---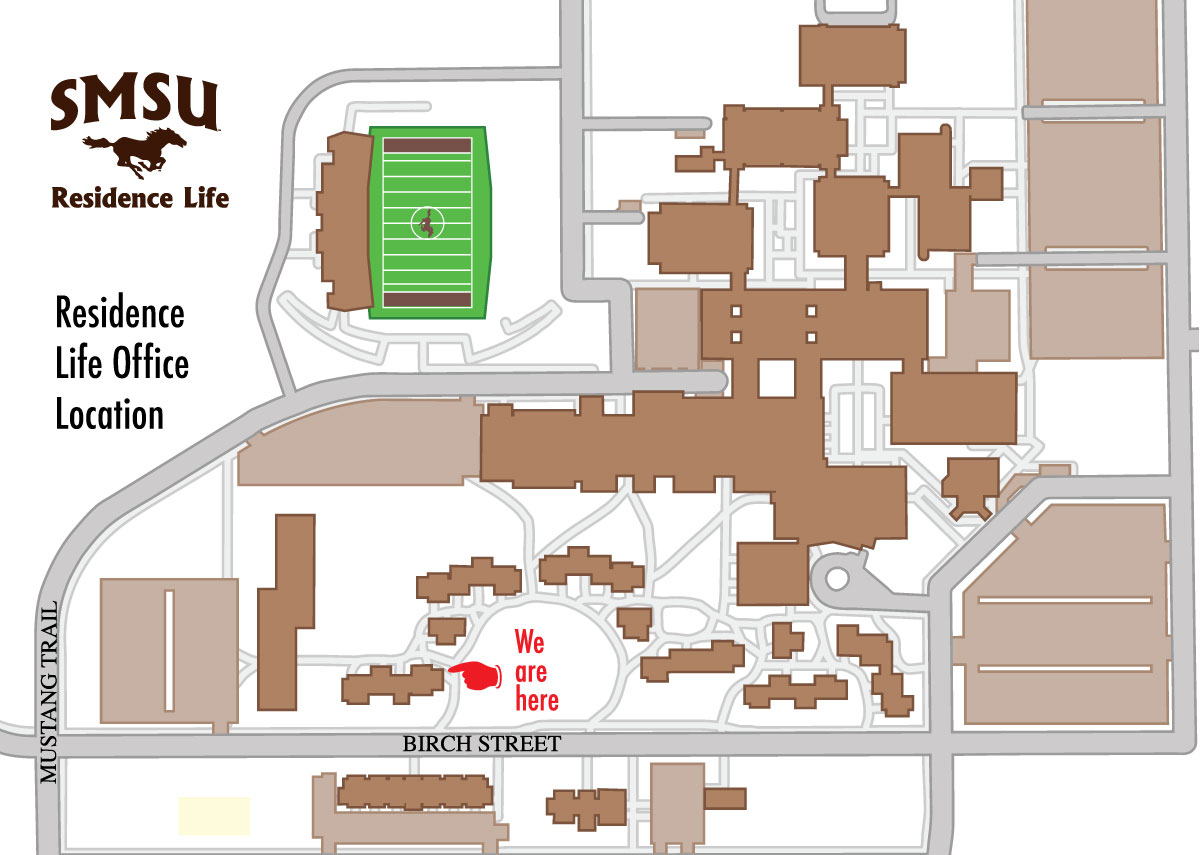 The Residence Life Office is located in the Naoutha residence hall. This office provides long hours of operation and a central location for all our administrative services. Residents can take care of administrative needs, pick up packages, check out equipment (cooking, sports, games, tools, WII and X-Box units), etc., all in one place.
---
Map of Campus Snow Removal Priority Routes
---
The Residence Life Office is open at the following times: 
 Academic year hours:
8:00 a.m. - 10:00 p.m. Monday - Friday
2:00 p.m. - 6:00 p.m. Saturdays
2:00 p.m. - 10:00 p.m. Sundays
Summer Hours:
8:00a.m. - 4:30p.pm Monday - Friday
The office is closed from 12:00pm-1:00pm daily
Note: Holiday hours will be posted
---

SMSU Alert is the official emergency notification system for Southwest Minnesota State University. The system will notify you of important emergency, safety and weather announcements for the campus community. You are automatically enrolled in the system to receive email messages, but must log in to set up text message & voice notifications.
Please use the options below to set up your SMSU Alert Emergency Notification Account using the Blackboard Connect Portal.
---
 

Did you know students ride the Marshall Community Transit bus free?
Community Transit Service hours along with Red and Blue Route maps are available here
Jefferson Bus Lines information here
---
Department of Residence Life
Naoutha Residence Hall
1501 State Street
Marshall, MN 56258
507-537-6136
1-800-642-0684
ext. 6136
ResLife@SMSU.edu
fax: 507-537-6596
Save
Save
Save
Save
Save
Save
Save
Last Modified: 8/6/19 12:39 PM