Access Opportunity Success Communities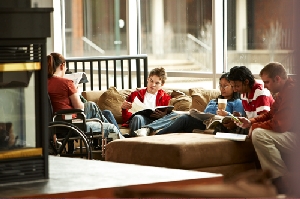 The Access Opportunity Success (AOS) Living & Learning Community began in the Fall of 2008 in the Selene House.  Students must be enrolled in the AOS program at SMSU to qualify for this living option.  This is co-ed and includes all undergraduate students.
As a member of this AOS Living & Learning Community, you will have the opportunity to participate in a more supportive environment; via tutoring, and student developed housing activities.  Through this experience you have the opportunity to develop strong relationships with the Academic Diversity Resources staff.  As a member of this house, you will develop lifelong friendships with your fellow students.  to be part of the CCLC program students will be asked to make a two-year commitment; with this commitment, residents will have access to special resources, programs and activities. All rooms are double as single rooms with one person per room.
For students interested in living in the AOS LLC, please contact Michele Knife Sterner at (507) 537-7382. You can also visit the Access Opportunity Success website.