Music News 2015-2016
All Articles from 2015-2016
April
February
January
---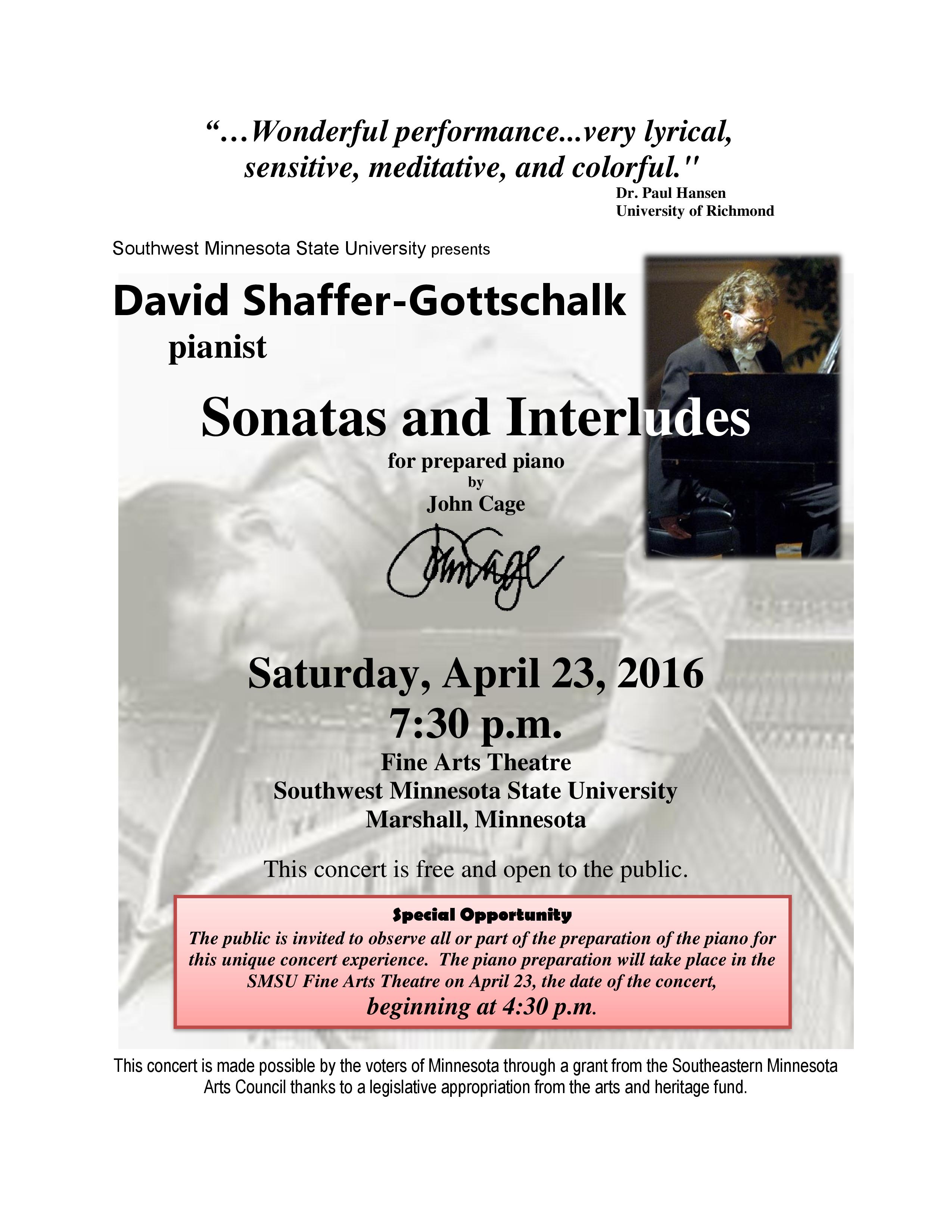 John Cage's "Sonatas and Interludes for Prepared Piano" to be Performed at SMSU
From the first startling non-piano sounds arising from the prepared piano, the music takes you into its own world through each successive movement, finally passing through the suspended time of "Gemini" to the final contented bell-like tones of Sonata XVI.
On Saturday April 23, Dr. David Shaffer-Gottschalk, a concert pianist and retired Professor of Piano and Music Theory at Virginia State University, will play John Cage's powerful and enchanting Sonatas and Interludes for Prepared Piano. The concert will take place in the SMSU Fine Arts Theatre at 7:30pm.
Prior to the concert itself, the public is invited at 4:30pm or after to observe as Shaffer-Gottschalk prepares the piano according to Cage's Table of Preparations, by placing screws, bolts, nuts, strips of rubber, pieces of plastic, and a rubber eraser inside the piano. Then Shaffer-Gottschalk will play the Sonatas and Interludes in their entirety, an experience that Cage himself said evokes "the heroic, the erotic, the wondrous, the mirthful, sorrow, fear, anger, the odious and their common tendency toward tranquility."
Written in the late 1940s, before Cage's more well-known experiments with chance, noise and silence (such as the famous 4'33"), Sonatas and Interludes uses the instrument Cage pioneered: the prepared piano. By placing household objects inside the piano, the sound of the instrument is considerably altered, surprising both player and audience alike. In a rare nonacademic performance of the work, the audience is invited to experience one of the masterworks of modern music.
Dr. David Shaffer-Gottschalk is a Rochester-based pianist and teacher. He holds degrees in piano performance from Wartburg College, the University of Michigan, and a Doctor of Musical Arts from the University of Colorado. He retired from Virginia State University, where he was Professor of Piano and Music Theory, and earned an Outstanding Faculty Award. He is also a Nationally Certified Teacher of Music (NCTM) in Piano from Music Teachers National Association and the Minnesota Music Teachers Association.
This event is an afternoon of experimental music by John Cage. For the most up-to-date information, call David Shaffer-Gottschalk at 804.721.1577 or visit http://shafgottpiano.wix.com/classical.
This activity is made possible by the voters of Minnesota through a grant from the Southeastern Minnesota Arts Council thanks to a legislative appropriation from the arts and cultural heritage fund.
---

SMO to Perform "Viva Espana"
The Southwest Minnesota Orchestra (SMO) will be performing an all-Spanish concert on Sunday afternoon, May 1st, 2016 at the Schwan Community Center for the Performing Arts, Marshall, MN.  The concert is at 4 PM and has a ticket prices of $12 for Adults/$5 for all students. 
The program will include music of Arriaga (known as the "Spanish Mozart"), Navarra for two violins by Sarasatre (featuring two members of our resident Meadowlark Quartet), a solo piano piece by Manuel de Falla performed by Dr. Daniel Rieppel (Music Director of SMO) and concluding with a condensed version of Carmen by Bizet. 
The SMO will be joined by SMSU's own mezzo-soprano diva, Dr. Anna DeGraf in several of the most famous arias from that seminal work, including the beloved Habenera.  This concert will close the annual performing season of SMO as well as conclude SMSU's Tenth Annual Fine Arts Celebration.
---
Brassapalooza returning to SMSU April 2nd (2/25/2016)
"Brassapalooza" is an all-day event open to brass players at all levels. The day is fill with brass choir and small brass ensemble rehearsals; a recital and master-class with guest artist, Dr. Tristan Eggener (tuba); an SMSU faculty/studio recital; and an evening Finale concert. The day will run from 8:30 a.m. until the Finale concert at 8:00 p.m.
There's room for ALL brass players, and it's a great way for students to get more experience and interact with other brass musicians from the area. Participants pay a $20 fee which includes lunch. This is a great event for M.S., H.S., college, and community musicians.
If you would like any additional information, please contact Dr. David Peterson (david.peterson@smsu.edu)
or Director of Bands, Dr. John Ginocchio (john.ginocchio@smsu.edu).
---
Faculty & Guest Recital Presented at the Campus Religious Center (2/23/2016)

On Sunday, February 21st, SMSU Adjunct Professor of Low Brass, Dr. David Peterson and former Adjunct Professor of Harp, Dr. Rachel Brandwein presented a recital in the SMSU Campus Religious Center. "The Branderson Duo" presented an hour-long concert of pieces written and arranged for trombone and harp including two works written by Dr. Brandwein. A special feature of this recital was the premier of a brand new work written specifically for the duo by Dr. Paul Salerni.
Dr. Salerni is the NEH Distinguished Chair in the Humanities and Professor of Music at Lehigh University. The commission was made possible by a Minnesota Legacy Grant. The new work, entitled "2X2 4 2" (two times two for two), is a four movement work featuring two Chaconnes (a Baroque variation form) and two Rondos (a classic episodic form in music).
Dr. Salerni was in attendance for the premiere and described the conception of the work for the audience. Later he described the task as one of the most difficult compositional efforts he has ever completed due in part to the unique combination of the trombone and harp sound. The duo will travel to Lehigh University during the first week of March to present the recital for that campus and to give classes to their music and composition students.
**pictures made available by SMSU Today**
---
SMSU Jazz Ensemble to Host Drummer, Mike Clark (2/18/2016)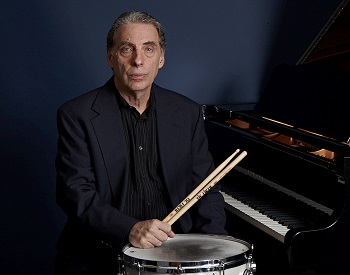 From March 20-22, the jazz ensemble will host guest drummer, Mike Clark. Clark was the drummer for Herbie Hancock and the Headhunters for many years and has played with many other artists including Christian McBride, Chet Baker, John Scofield, Tony Bennett, Wayne Shorter, Joe Henderson, Bobby Hutcherson, Vince Guaraldi, Woody Shaw, Albert King, Bobby McFerrin, Nat Adderly, Oscar Brown Jr., as well as Gil Evans and his Orchestra.
He will perform along with the SMSU jazz ensemble at Marshall High School on March 21st at 7:30 p.m., and again on March 22nd at Glencoe-Silver Lake High School. Both performances are free and open to the public and will also feature the local high school jazz bands. This activity is funded, in part, by a grant from the SW MN Arts Council through an appropriation from the MN State Legislature with money from the State's general fund. It is also being sponsored by D'Addario/Evans Drumheads, Innovative Percussion, DW Drums, and Istanbul Cymbals.
The SMSU Jazz Ensemble has hosted eleven artists over the past ten years as part of the SMSU Bands Guest Artist Series. Recent guests have included world renowned performers Conrad Herwig (trombone), Antonio Hart (saxophone), Michael Phillip Mossman (trumpet), Rodney Whitaker (bass), and Dennis Wilson (trombone). The band is excited to bring Mike Clark to the region and to perform with him for audiences around southwest Minnesota.
---
Dr. Ginocchio Conducts Band Festival in Kentucky (2/18/2016)
Over Valentine's Day Weekend, SMSU Director of Bands, Dr. John Ginocchio traveled to Morehead, Kentucky to conduct an honor band for the Morehead State University Band Clinic. The Band Clinic included nearly 300 students for over 50 band programs in Kentucky, West Virginia, and Ohio. Students met for eleven hours of rehearsal on Friday and Saturday in preparation for the concert in Button Auditorium the evening of February 13th.
Dr. Ginocchio was one of three guest conductors invited to work with the three honor bands. Other conductors were Dr. Linda Morehouse from the University of Illinois, and Dr. Polly Middleton from Virginia Tech.
---
SMSU Music Students to Attend the MMEA Midwinter In-Service and Participate in the Minnesota Intercollegiate Honor Band, (2/2/16)
During February 11-13, music educators from all over the state will gather at the Minneapolis Convention Center for the year's largest professional development conference, the MMEA Midwinter In-Service. The conference is coordinated by the Minnesota Music Educators Association. It includes performances by some of the finest ensembles from schools around the state; educational sessions by experts in the field of music education; and an exhibit hall where universities, performing organizations, and a variety of music related businesses share information with attendees. For the past ten years, the SMSU Music Program has brought students to this event in order to expose them to this important educational resource and the larger world of music in the state of Minnesota. Students attend clinics and concerts as well as help with the SMSU Exhibit. This activity is supported each year by the SMSU Foundation.
In addition to attending the workshop, four students, Illana Peter, Michaela Fassler, John Miller, and Jack Walker will also participate in the Minnesota Intercollegiate Honor Band which meets during the conference. The ensemble includes some of the best college musicians from around the state. These students were nominated by their band director and were selected from hundreds of nominees. The band will meet for ten hours of rehearsals on February 11th and 12th.
Their concert will take place at 9:00 a.m. on Saturday, February 13th as one of the closing day events for the conference. This year the band will be conducted by four college directors from around the state, Dr. Catharine Bushman (St. Cloud State), Dr. Monte Grise (MSU Moorhead), Dr. Douglas Orzolek (St. Thomas), and Dr. Justin Zanchuk (St. John/St. Benedict).
---
High School Students Invited to "Play Like a Mustang", (1/26/16)
The Mustang Pep Band is one of the most visible groups on campus performing for SMSU football games and basketball games as well as area events. The band even travels to do combined pep band performances at schools around Minnesota. One of the missions of the Mustang Pep Band is to connect with all audiences, but particularly with high school musicians in hopes of encouraging them to continue playing their instruments in college. In the first week of February, the pep band will have to opportunities to share this spirit with students.
On February 2, 2016 the Pep Band will travel to Russell-Tyler-Ruthton High School to play with their band at one of their school basketball games. The band members will play along with the high school band on several pieces that both bands have in common. It's a great way for high school students to get to interact with college students in a fun and musical environment. Previous combined pep bands have taken the group to Sauk Rapids-Rice, Sleepy Eye, Cedar Mountain, and Jordan High Schools just to name a few.
Later that week, on February 5th, high school musicians will be invited to come to SMSU to play along with the Mustang Pep Band for the basketball games against Bemidji State University. This event, "Play Like a Mustang," was an idea initiated by the pep band members several years ago. Since that time, the pep band has offered this opportunity during one football and one basketball game each year. Not only do the high school students have the opportunity to play along with the band, but they also get to experience the atmosphere of a college athletic event which often differs greatly from their high school experiences.
If you are interested in joining the band for this event, please contact the director of the pep band, Dr. David Peterson (David.Peterson@smsu.edu).
---
SMSU All-State Audition Workshop, (1/26/16)
The SMSU Music Program is committed to helping music education programs around the region. In the spring hundreds of Minnesota high school musicians audition for the MMEA All-State Bands and Choirs. In an effort to help area students put their best foot forward, the SMSU Music Program offers an All-State Audition Workshop. This workshop is offered free to any high school musician planning to audition for the All-State groups. Each student receives a 30 to 45 minute lesson with one of SMSU's music faculty. During this lesson the student can work on scales, etudes, and audition pieces. In past years, many of the participating students have been accepted to the ensembles.
The All-State Audition Workshop will take place on Saturday, February 20th in the afternoon.
Interested students can schedule a lesson time by contacting:
Dr. John Ginocchio, Director of Bands (for all instrumentalists)(John.Ginocchio@smsu.edu) or
Dr. Stephen Kingsbury, Director of Choral Activities (for all vocalists)(Stephen.Kingsbury@smsu.edu).
---
Director of Bands to Present at Alabama Music Conference, (1/19/16)
Professor of Music, Dr. John Ginocchio has been invited to present an educational session at the annual In-service Conference of the Alabama Music Educators Association. The session, entitled "Sound Use of Space", examines educational, acoustical, and musical variables that can be considered in the physical placement of instrumentalists in ensemble rehearsal and performance situations. The session brings together ideas used by some of the finest ensemble conductors in the country; identifies commonalities in seating concepts; and encourages educators to consider their students, instrumentations, performance environment, and musical characteristics of their program when seating their ensembles.
The AMEA Conference takes place in Montgomeray, AL from January 21-23, 2016.
---
SMSU Music Professor Conducts Area Honor Bands, (1/19/2016)
The winter and spring are active times in music programs around the country with contests, festivals, and honor band weekends. Recently, Dr. John Ginocchio, The Director of Bands, has been busy working with area groups as this season kicks off. On Saturday, January 9th, Dr. Ginocchio conducted the Granite Ridge Conference Honor Band consisting of 90 of the finest musicians from Albany, Becker, Foley, Little Falls, Milaca, Mora, St. Cloud Cathedral, and Zimmerman High Schools. The band met for 3 hours of rehearsal and an hour of masterclasses in St. Cloud State University before presenting their concert.
On Saturday, January 16th, Dr. Ginocchio conducted the 11-12 Honor Band for the Southwest Region of the Minnesota Band Directors Association. The band members are nominated by their directors, and they represent some of the best band members in this part of the state. "This was the first year for this particular group, and it was a great honor to have the opportunity to work with them." The band rehearsed for four hours in the morning before performing along with the 6-8 honor band and the 9-10 honor band from the region.
The concert took place in the Schwan Community Center for the Performing Arts at Marshall High School.
---
SMSU Music Students Attend the Midwest Clinic, 1/15/16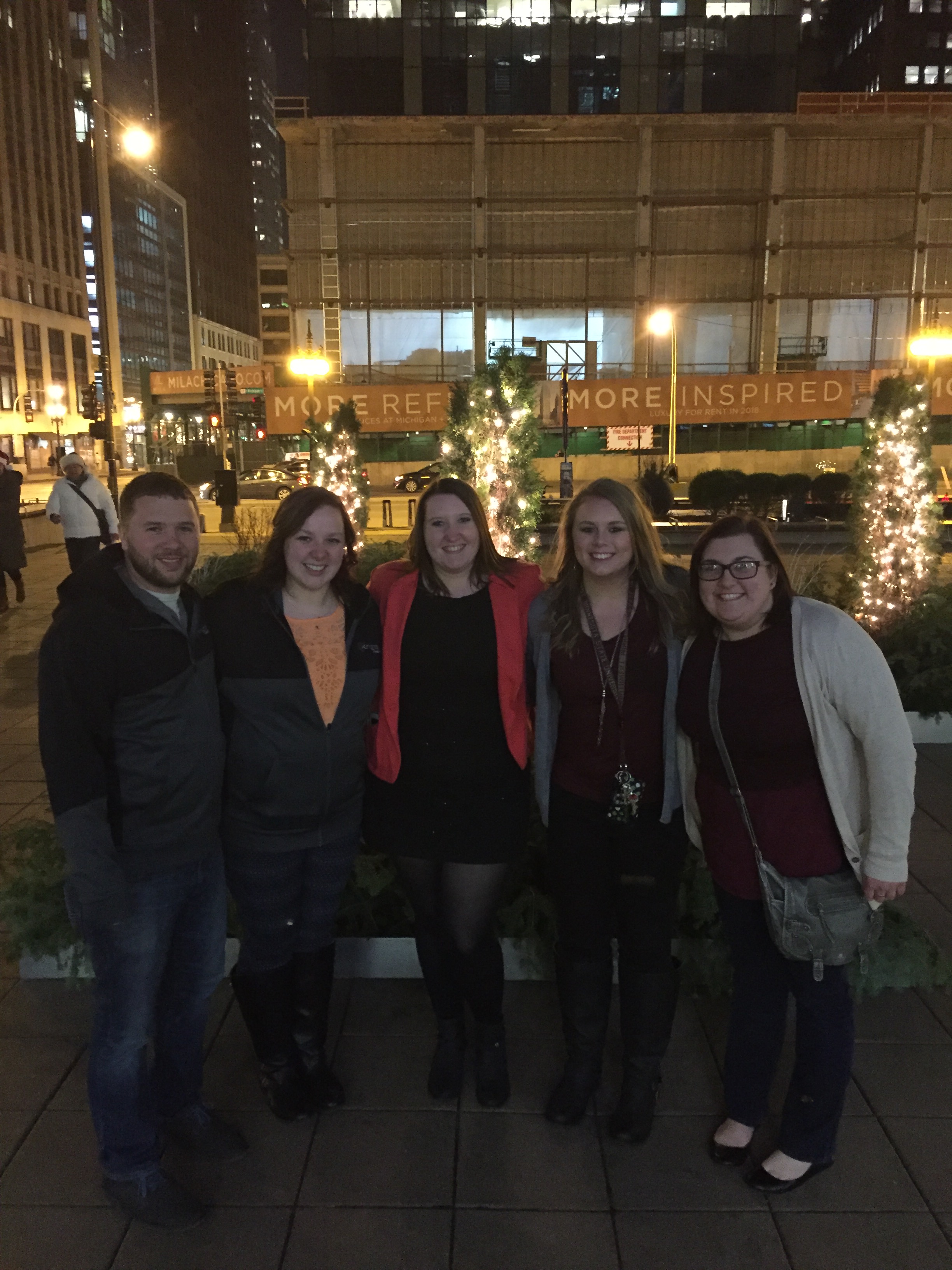 The Midwest Clinic is the largest professional development conferences for instrumental music educators in the world.  This event is held at McCormicks Place in Chicago, Illinois, and it is attended by over 15,000 musicians/educators each year.  This year five students from the SMSU Music Program attended this prestigious conference.  Meghan Carmody, Justin Condelli, Tiana Cselovszki, Robyn Lubitz, and Madalyn Sagedahl made the trip to Chicago and enjoyed many aspects of the conference.  Meghan Carmody stated, "I really enjoyed this conference.  It offered so many more ideas about teaching music than I had ever thought and gave me some ideas how to adjust what I am already doing." 
The Midwest Clinic features concerts by some of the finest professional, military, college, high school, and middle school bands, orchestras, and jazz ensembles in the world.  Robyn Lubitz commented, "I particularly enjoyed the Army Field Band.  They showed an extreme amount of discipline, and their music was absolutely flawless.  Being a saxophone player, I enjoyed listening to the Army Band's saxophone soloist. 
A myriad of educational sessions are offered for music educators of all levels looking to expand their teaching skills and content knowledge.  Justin Condelli attended a session entitled Failsafe Fixes for Frequently Frustrating Flows which "gave us advice on what to do for common day to day problem and different ways to approach them."  and one of the largest exhibits of instrument makers, publishers, educational programs, and other music related businesses can be experienced at this conference.
The conference also boasts one of the largest exhibit gathering including instrument makers, music publishers, colleges, and other music related businesses. 
Madalyn Sagedahl summarized her impression of the conference as, "Wow!  There was so much to see and so much to do."
---
MMEA Presentation, 1/15/16
SMSU Associate Professor of Music and Director of Choral Activities, Dr. Stephen Kingsbury and Assistant Professor of Library, Maria Kingsbury, have been invited to present a talk at the Minnesota Music Educators Mid-Winter In-Service in Minneapolis. Their talk, entitled "Soulful Gravel: Examining Popular Narratives about Vocal Dysfunction- Lessons for Voice Teachers and Conductors" explores narratives in the press and other popular culture mediums about singers in the popular cannon who are known to suffer with vocal dysfunction. The presentation also shows how the general populace understands issues relating to vocal misuse, and the resulting injuries suffered by the artists who engage in these practices. The talk will help bridge the discourse gap between professional voice teachers and their students.
The presentation is scheduled at 1:15 pm on Friday, February 12th in room M100A. For more information please contact Dr. Stephen Kingsbury, stephen.kingsbury@smsu.edu.
---
Music Listening Contest, 1/15/16
On Friday, January 22nd, the SMSU Music Program will host the District 9 Competition of the Minnesota High School Music Listening Contest. Established in 1988, the Music Listening Contest is designed to help students at the secondary level develop skills in listening to music. With the stated objective of inspiring students to become lifelong participants in the musical experience, the MLC helps students learn the characteristics of pieces of music from throughout history as well as specific representative works.
Students compete in teams of three to advance from the District Round to the Championship Round. Teams participating in the District 9 competition included 8 teams from Montevideo High School, Mountain Lake Public School, Pipestone Area High School, Redwood Valley High School, and Southwest Minnesota Christian High School.
SMSU's Director of Choral Activities, Dr. Stephen Kingsbury, will serve as the contest manager.