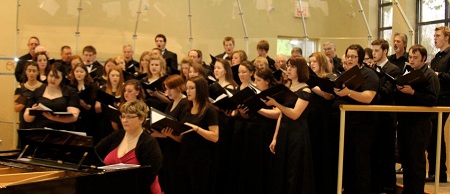 Southwest has a long and distinguished tradition of excellence in choral music.  The Choral and Vocal Studies Program at Southwest Minnesota State University are dedicated to the personal growth of every member, from that of the would-be professional musician to those interested in singing merely as an avocation - we have a choir for you!
Our current rosters represent nearly all disciplines and majors on campus and contain singers from all over the world. Joining a choir is a great way to make new friends and increase your contact with the community and region as all choirs at SMSU perform and tour regularly.
All choirs at SMSU are committed to the dynamic, personal growth of each singer from a musical and technical standpoint. Our distinguished faculty is unswerving in their dedication to nurturing a free, healthy tone as well as the performance of unique and challenging choral fare from the ancient to the modern.
Currently there are three choirs at SMSU; The Men's Glee Club, Bella Voce and the SMSU Chorale.
The Men's Glee Club
Bella Voce
The SMSU Chorale
We hope that you will join us as we continue to build upon SMSU's reputation for choral excellence.
Welcome to the SMSU Choirs!
Last Modified: 3/13/17 6:51 PM