David Perkins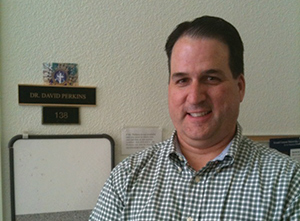 "It was the fall of 1982 and, fresh out of high school, I remember driving my Ford Maverick from my hometown of Ellsworth, Minn., to the campus of SMSU.
"I was a nervous wreck. My heart was pounding as I made my way to one of the residence halls along Birch Street. The thing that struck me was the friendly, warm environment and that I felt comfortable right away. The campus had a real small-town feel. I returned for a visit in 2010, and though the campus had expanded, that same atmosphere greeted me.
"I had a minor role in the 1985 production of You Can't Take it With You. I was an Engineering Technology student but decided I wanted to be in a university theatrical production. I was amazed I got a part, even if it was only two lines. When I think about my SMSU experience, the fun I had in that production comes to mind."
Perkins is now finishing his ninth year as an Associate Professor of Business at Grand Canyon University in Phoenix, Ariz., after 17 years in industry.
"The first time I realized I might want to teach was when I was a junior at SMSU. The department chair expressed an appreciation regarding how I organized my laboratory reports for a particular course, and asked me to present my approach in creating these reports to another class. I felt a sense of exhilaration during the presentation, especially in terms of my interaction with the students. I discovered I enjoyed watching and helping others learn.
"SMSU was a great place to go to college. I was given the opportunity to do some fun and interesting things, and it gave me the opportunity to pursue my interests, realize my abilities and discover my career path."