Content Management System
What is CMS?
A CMS is basically a computer system whereby allows you to make changes like editing, publishing, modifying, organizing, or deleting online content. It is important to state that there is quite a learning curve but once you get used to it, the CMS will act as an indispensable tool in your content management. 
In case you are looking for a specific part of this documentation, click the links below to instantly navigate to the respective section.
Dashboard

The dashboard is what you see when you first log into Cascade. Your dashboard allows you to add and remove widgets that provide quick access to the website assets, such recently accessed pages and broken link reports.
Tip: Wherever you are within Cascade, to get back to the dashboard, you can click on the cascade logo in the upper left of the browser viewport.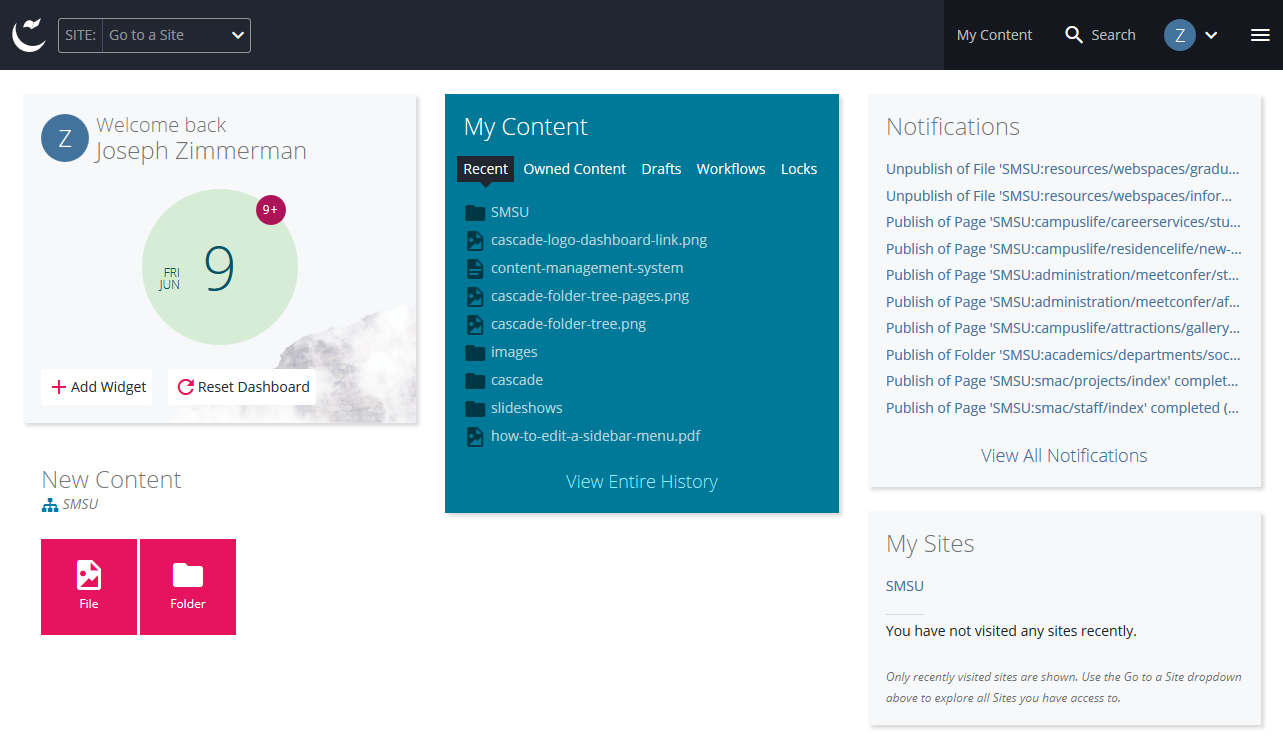 Site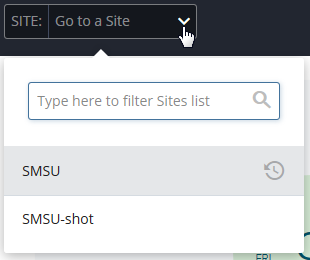 Cascade CMS is a content management system that allows us to manage multiple sites from one system. The SMSU site can be accessed through the site selector menu to the right of the Cascade logo in the top toolbar. After selecting the site you are looking for, you will be able to locate the pages, files and folders you need to update, modify, or add to.
Pages
Pages can be found by expanding and collapsing folders within the folder tree. This is where all of your individual pages are located.
Here are some quick tutorial videos on editing pages:

Sidebars
Sidebars within the SMSU site in Cascade are located within the "_sidebars" folder. The folder structure within the "_sidebars" folder is similar to the folder structure where the pages are located.
This PowerPoint will help give you a better idea of how to edit the sidebars.
Uploading File into Cascade
For any image to be used on a page, the image must first be uploaded to the File Manager. However, other than photos, one can also upload Microsoft office files like .doc/.docx (Word files), .ppt/.pptx (PowerPoint files), or .xls/.xlsx (Excel files). These files when uploaded cannot be displayed on your page like an image would but one can make hyperlinks that leads to the download of these files.
One recommended habit in the world of file management is to have your files organized into specific folders. Instead of having 100 files in one folder for an entire program, have your 100 files separated into folders with specific names. One great way is to name your folders according to the article title where the image or the link (for other documents) is located. This way, anyone having access to the program can find the related files easily and immediately.
Click here to watch a video tutorial about adding an image into Cascade. This process would be the same with uploading a pdf or other file type.
Online Forms
Our new website has required us to rethink the way we implement forms on the website. If you need a form created or modified, please contact the web office.