Mustang Success Night 2020
Join us for Mustang Success Night on Sept. 17
Mustang Success Night is an annual tradition that introduces students to the many services available to help them succeed!

View the schedule below for descriptions of the sessions. To receive links for the Zoom meetings, contact David.Tolliver@SMSU.edu.  If you still have questions, please contact the SMSU Student Success and Advising Center at 507-537-6139 or email Doria.Drost@smsu.edu.
7:00 PM - 7:05 PM
Welcome:
President Kumara Jayasuriya


7:05 PM - 7:15 PM
Review of Schedule &
Introduction of Keynote Speaker

7:15 PM - 7:45 PM
Keynote Speaker: Crystal Watts, 2018 SMSU Alum
"Learning to Pivot for a Life of Change"

Need to make a change but you're not sure how? Keeping one foot grounded while stepping with the other in new directions can be the most amazing experience of your life! When we pivot we focus on what we can manage, one step at a time. 
Crystal is a 2018 Alumna of SMSU. She served as the AmeriCorps VISTA – Mustang Market from 2018-2020. And she is now employed with the Girl Scouts of Minnesota and Wisconsin River Valley.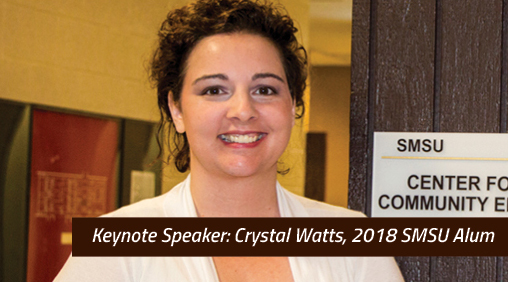 Interdisciplinary Tutoring Support
Interdisciplinary tutoring is available in the Student Success and Advising Center, which is located on the second floor of the Individualized Learning building, and a virtual format will also be available soon. Tutoring is available Monday –Thursday during the Fall 2020 semester for various courses, including biology, chemistry, physics, economics, and accounting.
Additionally, SMSU offers free online, on-demand tutoring in many disciplines and subjects, through www.Tutor.com. Tutors are always available, even late at night. Stuck on a problem? Want someone to review your paper? This tutoring service is easy to use and can be accessed on any device with Internet.
Residence Life
As part of our community, you will have many opportunities to influence your living environment. A residence hall is more than a place to live. It is a place to learn and grow as individuals. We will make every effort to make you feel at home here.
You'll make new friends quickly when you live in one of SMSU's Residence Halls. Resident Assistants connect you to all kinds of events and programming to help you make the most of your campus life. You have your whole life to live off-campus. Live close to everything. Live engaged in academics, activities, and community. Live supported by other students. Live connected to the campus community. Prepare for a life-changing experience. Live on campus and live your best life. #LiveLifeOn

Technology Resource Center (TRC)
The Technology Resource Center provides free IT services such as wireless and wired network configuration, software installation, virus removal, operating system maintenance and limited hardware support, as well as details on software package benefits for students. TRC can be reached at 507-537-6111 or TRCHelpdesk@smsu.edu . During this session, we will be going over some helpful tools that students can utilize to stay on task during the semester to keep up with due dates and deadlines:
SMSU Email: How to access on your mobile device
D2L Brightspace Pulse app
OneDrive app
Career Services
Career Services can assist you in choosing a major, developing career plans, applying to graduate schools, or looking for internships and full-time employment. Career Services provides comprehensive career resources to assist SMSU students and alumni with their career development and employment goals. The role of Career Service is not to act as a placement center. Career Services strives to equip students with resources to successfully manage their career development during their academic experience and beyond their graduation.
Writing Center
Join SMSU Writing Center tutors in our session to discover what the Writing Center can help you with throughout all of your courses and on all of your writing needs while at SMSU. We will describe the types of appointments we offer and show you how to make appointments through our online scheduling system.
Early Alert Interventions
What is an Early Alert? An early alert is an automated at-risk identification tool designed to help identify and react to retention challenges quickly and consistently.
We want our students to achieve academic success, as well as social and professional growth; therefore, have early alert procedures at SMSU to help identify students that may be at-risk due to the following alert types: Academic, Attendance, Financial, and Personal. In this session, we will discuss how our early alert procedures work, the process we will follow if you ever receive an early alert, and why these procedures are beneficial to achieving success.
Women's Center Resources and Club
Women make up almost 60% of SMSU's campus, and sometimes there are issues we face specifically because of our gender. Come meet Julie Walker, director of the SMSU Women's Center. Julie is here to provide you with resources, to help you navigate issues of discrimination, and to have a spot where you can feel safe. Whether you're looking for resources about how to incorporate feminist principles into a course project, you're looking for help after experiencing a sexual assault, or are trying to find ways to escape a situation involving domestic violence, the Women's Center exists to make sure all Mustangs who identify as women have a safe place to go. Come find out about the resources available for all Mustangs who identify as women.
Advising Services
The goal of effective advising at Southwest Minnesota State University is to provide all students with the necessary academic information that allows them to make informed decisions about their academic careers. This can only be done by creating a working relationship with a faculty or staff member who assists students in developing an academic degree plan. This session will focus on the Liberal Education Program, accessing your degree audit, and general advising information.
Need a little 'extra' to get you through? Join us to learn more about the Mustang Market, SMSU's student food and resource center, and find out how we can fuel your success.
McFarland Library
The McFarland Library promotes the success of the SMSU community by providing access to quality resources, instruction, services, and spaces to support research, teaching, and learning in an inviting, inclusive environment.

LGBTQ+ Center Resources and Club
Being a member of the LGBTQ+ community in a rural area can be challenging at times, but at SMSU you're definitely not alone. Come meet Julie Walker, the director of the SMSU LGBTQ+ Center. Julie is here to provide you with resources, to help you navigate issues of discrimination, and to have a spot where you can feel safe. SMSU is a place where all Mustangs belong, and this can be one of the places on campus for you. Learn about the resources available for all LGBTQ+ Mustangs.
Center for Civic and Community Engagement
The Center for Civic & Community Engagement connects academic programs with community needs to use scholarship and action for the mutual benefit of the University, its communities, and its diverse peoples. The Center serves as the intersection between student learning, faculty research, and community engagement. It is committed to illuminating the variety of ways in which SMSU strives to make civic and community engagement integral to learning experiences campus-wide.
Please complete the evaluation form to enter your Tech ID in prize drawings, including the chance to win
one of THE $250 tuition stipends that will be awarded to four students who complete the evaluation form.
A link to the evaluation form will be distributed through Zoom's chat function throughout the event.