Winter Meltdown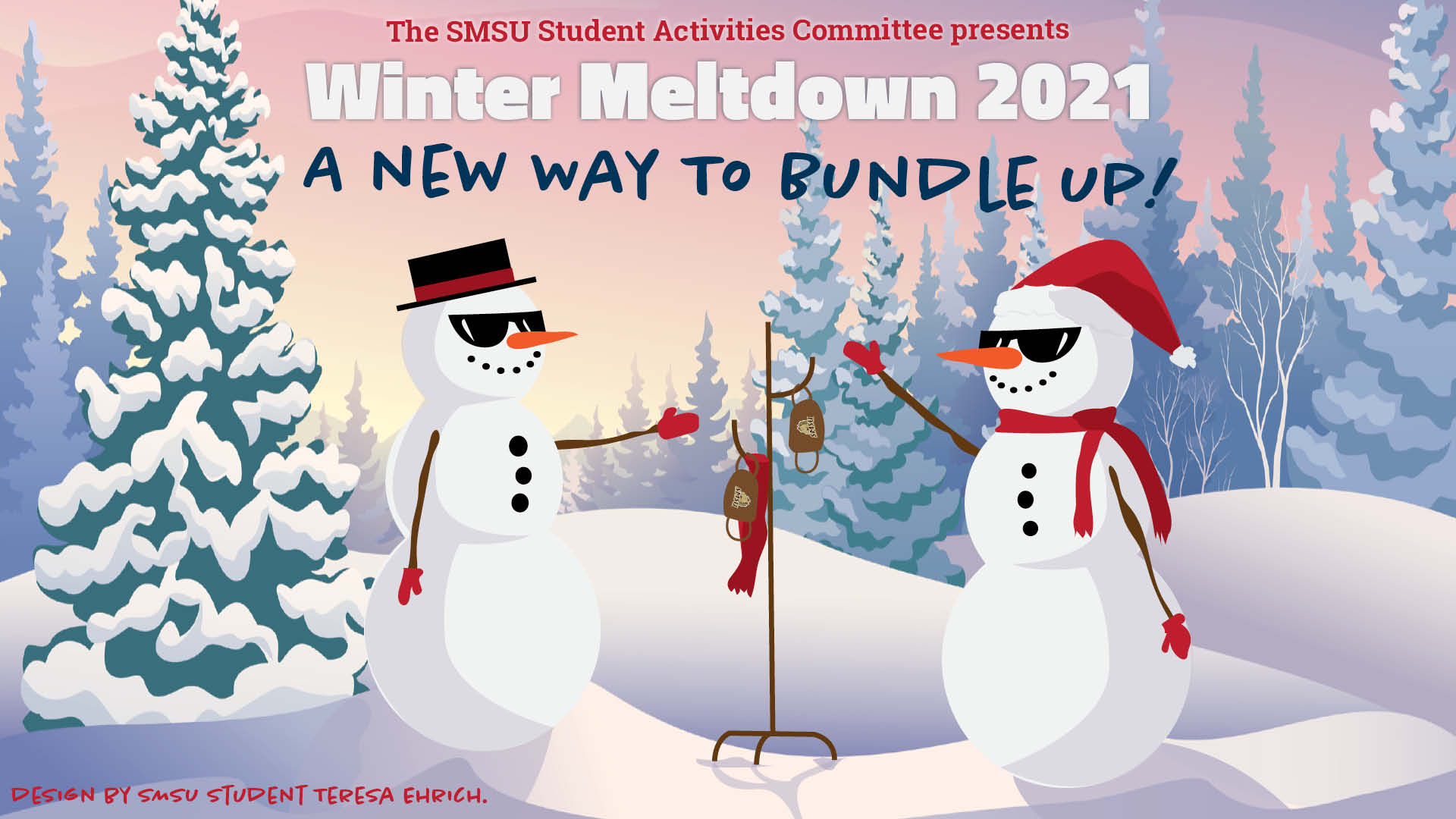 February 1-6, 2021
Monday Feb. 1
Tie Blankets
5:00-8:00 pm, Grab & Go Tie-Blanket DIY Supplies Kit Pick-up,
Upper Student Center
Student ID Required at Pick-up.
Health Self-Assessment must be completed before arrival.

Tuesday Feb. 2
Virtual Paint Social
1:30-3:30 pm, Pick-up Painting Supplies,
Upper Student Center
Student ID Required at Pick-up.
Health Self-Assessment must be completed before arrival.
8:00 pm, Virtual Painting Social Zoom Event:
https://www.neon-entertainment.com/virtual-paint-social-southwest-minnesota-state-university/
Limited to 50 people
Wednesday Feb. 3
Comics Unmasked Virtual Comedy Show
8:00 pm, Virtual Event featuring Rob Haze, Matt Rife, and Kiry Shabazz
Zoom Link: https://minnstate.zoom.us/j/5866498823

Thursday Feb. 4
Glow-in-the-Dark Mini Golf
2:00-5:00 pm, Tee-Times at 10 minute intervals.
Sign up for Tee-Time by email: Aaron.Bible@my.smsu.edu
Provide first and second choice for Tee-Time. Groups of 4 or less. Reservations have priority over walk-ups.
Friday Feb. 5
Women's Basketball
6:00 pm, Streaming
Men's Basketball
7:00 pm, Streaming
www.SMSUmustangs.com/WatchNow

Saturday Feb. 6
Men's Basketball
3:00 pm, Streaming
Women's Basketball
4:00 pm, Streaming
www.SMSUmustangs.com/WatchNow
For questions and information contact, SAC at SMSU.SAC@SMSU.edu 
You may also contat the SAC advisor, Scott Ewing at: