Alumni Love Stories, February 2012
Selecting one story for publication in the printed magazine was tough! Thanks for all the submissions. We've included a few more of our favorites here. We hope you enjoy!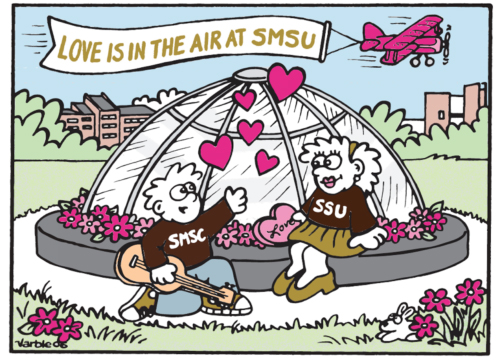 Submitted by Jennifer (Rogers) Bragg '05
Rich and I met while I was in my freshman year at Southwest. Although we didn't start dating until the following year, we were both involved in the Theater Department and were friends. We have so many great memories that took place as SMSU. We still keep in touch with many of our college friends, and love to reminisce about our pick up games of softball, late night Perkins runs, and many trips to HyVee for Crab Rangoon. Rich and I dated for five years before getting married. That's five Hawaiian nights, many volleyball games attended, and five Homecoming celebrations. That also gives five years of dates, on and around the campus. I still remember the time we snuck to the top of the ST building to watch a lightning storm. But the best memory I have from SMSU and from our relationship is the night Rich asked me to marry him. Rich had moved to South Dakota to open a new business, and he was over there working while I was in Marshall helping his Mom get ready for a garage sale. It was right after our anniversary, but with opening a new store, we hadn't had time to celebrate yet. Around midnight that night, his Mom brought me a card. It wasn't just an anniversary card, though. It was a riddle leading me to the place we first met, which was the Black Box Theatre. This was the start of a late night scavenger hunt, bringing me all around the town of Marshall to all of the spots relevant to our relationship. In addition to the Black Box, there were clues at my old house, his old house, and the spot where we decided to give our relationship another shot after a brief hiatus. I ended up at the bandshell where we acted in our first play together, Rich was down on one knee with a ring box, and I said yes. In my Senior year of High School, I went on many college trips, choosing my future school. At another school I still would have earned a college degree. I would still have memories from my crazy days in college. But I wouldn't have met my husband at any other school. Ten years and two kids later, we're eternally grateful for that day we met in the Theatre. Our lives wouldn't be the same without SMSU!

Submitted by Larry Vogt '72 and Sally (Denselsbeck) Vogt '72
Larry Vogt and Sally Denelsbeck met in the SMSC gym at the first freshman dance on Saturday September 21, 1968. Our first "date" was the next day when Mr. Stewart, a volunteer driver, provided transportation to the United Methodist Church. The college was new to Marshall (began in 1967) and the community members were very supportive about welcoming thousands of young adults to their city.
Larry and I were both 17 years old—those were the days before Kindergarten, so children started 1st grade at age 5. We graduated in the second SMSC class of 1972 with degrees in math/computer science and English/secondary education. We were married in June 1971 and spent our senior year living in a little house on E Street. Forty years later, our son and daughter are both married and we have four grandchildren.
Submitted by Mark Hacker '74 and Marilyn (Stassen) Hacker '77
The majority of SMSU students and graduates hail from towns in close proximity to Marshall. We are two of those students. Not having a car as a freshman, Marilyn Stassen ('77 - Music) frequently received weekend rides with Mark Hacker ('74 - Business). Mark was from Morgan, and his "college route" took him directly past the farm near Wabasso where Marilyn grew up. We developed a close friendship, attended each other's weddings, and after her graduation from SSU (as it was then known). Marilyn moved to the East Coast. We lost contact with each other except for an occasional phone call and cards exchanged at Christmas. Fast forward to 2009. Each of us had been married and divorced in the years since college; Mark has 3 daughters and 2 sons, and Marilyn has a son and a daughter. When visiting her mother in Redwood Falls in early 2009, Marilyn called Mark to "catch up on their lives." (Mark had been living in Marshall since 1974; Marilyn had been living in the Chicago area for over 25 years.) The phone conversation was brief; longer and more frequent conversations followed. A year and a half after that first phone call, Marilyn moved to Marshall; 3-1/2 months later, on 1/1/11, we were married in a small ceremony at Mark's dad's home in Morgan. The years have changed us (Mark's hair is graying; Marilyn is living with MS), but the one thing that remains constant is the foundation of our relationship— the friendship we had and held onto for more than 30 years that allowed us to be at this perfect place in our lives.
Submitted by Amanda (Goebel) Strommer '02
The Cabin Crew of SMSU. This love story is about five SMSU Alumni couples. Since our time at SMSU almost ten years ago (graduated between 2002 and 2004) our group of alumni couples has gotten together at a cabin up north every summer. We regularly attend Homecoming as a group, enjoy alumni events, trips, and have spent many New Years Eves and birthdays together, despite the fact that we live in different areas and even in different states. They guys all played Mustang Football together and the gals were all friends too. Mark and Penny (VanderSanden) Rentschler's love story started in Iowa where they grew up together as childhood friends. Penny transferred to SMSU to be with Mark and after graduation they moved back to northwest Iowa where they were married in 2003. Tyler and Jill (Kaproth) Engquist dated throughout most of their time at SMSU. They were married in 2003 after getting engaged in Acapulco, Mexico on their senior year spring break trip with their friends watching. Tyson and Janell (Powers) Kassel started dating in 2000 after freshman Janell reportedly 'chased down' Tyson (a junior). They were married in 2006 and live in eastern Iowa where they are expecting their first child. Brian and Emily (Rengstorf) Simon started dating sophomore year. Brian proposed shortly after graduation and they were married and made their home in 2004 in the St. Cloud area. It was at that 2004 Simon wedding that Aaron and Amanda (Goebel) Strommer started dating when Tyson told them they should dance together. They had the same group of friends but the thought had never occurred to them before. They were married in 2008 and live in the north metro close to the Engquists. There were many SMSU alums in each of our weddings and between the cabin crew couples there are 7 children with one on the way. We all found love in our significant others at SMSU but we also found a sometimes rarer love . . . that of good friends. The kind of people you can share anything with and who are always there for each other. At SMSU we found the people we wanted to spend the rest of our lives with!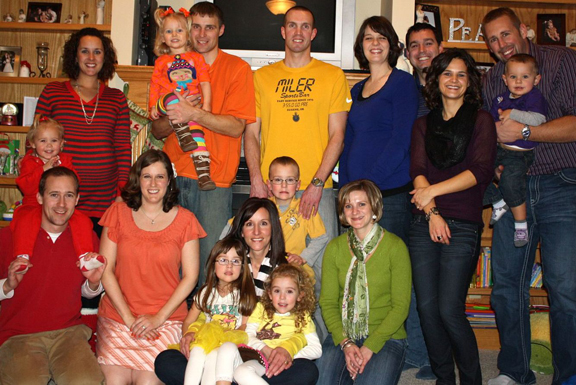 (Photo submitted by Amanda Strommer) Back row, L to R: Jill Engquist (with baby Nora), Alivia and Aaron Strommer, Mark Rentschler, Janell (with baby McKenna) and Tyson Kassel, and Emily, Brian, and Charlie Simon. Front row, L to R: Ruby and Tyler Engquist, Amanda Strommer, Mallison, Penny, Veda, and Xander Rentschler, and fellow alum Sharon Kuehl.
Submitted by Scott Dubblede '84
Diane and I met at SSU in the Fall of 1983. Diane (Moret) '87 went to Worthington Community College the previous two years and was starting her junior year (her 1st year at Southwest.) I was starting my senior year. One night at the Chalet, a fellow wrestler noticed Diane and said that he was going to introduce himself to her and ask her out. It wasn't long and he was back and said that he had struck out. So I told him that he just didn't have what it took to get a pretty lady like that to go out with him but I did. So I went over, struck up a conversation and after awhile asked if she was interested in going to a movie with me sometime. She agreed and after a bit I went back to the group and bragged to my buddies. Our first date was to the movie "Vacation" and afterwards we went to the Gambler to shoot a game of pool. I broke and sunk the eight ball in on the break which is an automatic win. Diane thought that sinking the eight ball early is a loss and was celebrating her "win." I didn't have the heart to tell her that I had actually won until months later. I guess that I had a feeling right away that she might be a "Keeper." And I was right, she is still a Keeper and we have been happily married for over 27 years now. And she is still a pretty lady and still my best friend. And that is the one and only time in my life that I ever shot the eight ball in on the break. Every now and then Diane and I share a laugh about the details of the movie and pool game that made up our first date. SSU still has a special place in both of our hearts. Happy Valentines Day!
Submitted by Melissa Lund '96
It was the fall of 1992 when I came to Southwest State, sight unseen. I quickly made friends with my fellow Camaraderie housemates, and we often hung out with the boys of Clapper. The RA, a great guy who would later be the best man in our wedding introduced me to his friend, Steve Lund '94. A few days later, Steve took me on our first date to see the legendary Johnny Holm at the Lyndwood Ballroom. The place was packed, the music was loud, the air was so thick with smoke that tears streamed down Steve's face, and I was in love. Twenty years and two children later, and I still remember that night like it was yesterday. We now call Baxter-Brainerd home, and every spring we attend our community YMCA's Ball listening to none other than the hometown favorite, Johnny Holm. Therefore, the words of my favorite romantic, William Shakespeare, ring true... "[Our] wheel is come full circle."
Submitted by Allison (Ashmore) Deal '07
It was the winter of 2003 on a cold and blustery day when I unknowingly met my soul mate and future husband, Matt Deal '07. I was a hyper and outgoing sophomore and Matt was a shy and quiet freshman who was new to SMSU. We both took a psychology class that semester and we sat on the opposite sides of the classroom. Besides the occasional "hello" as I entered the classroom we basically never spoke to each other in class. One day Matt and I happen to run into each other outside of BA 240. I asked him how he did on the psychology test we had taken a few days earlier. It turns out we both received a pretty unspectacular C. Our conversation blossomed and took on a life of its own that cold February day. We ended up sitting in the hallway talking for hours about every topic under the sun. He was hilarious, easy-going, witty, and great conversationalist. Over the next few weeks, Matt seemed to show up everywhere. I know now that this was no coincidence, but at the time I was completely oblivious. We continued to have our wonderful drawn out conversations all over campus. We talked in the café, in the dorms, in the hallway, at Applebee's, and on the path to campus. Students would walk past us on their way to class and past us again on their way back from class! Unfortunately for Matt, I was not ready to have a boyfriend and was not prepared to fall in love. I can't remember how many times he asked me out or how many times I said no. Matt's persistence and my stubbornness went head to head and needless to say, Matt won! Matt and I dated all through college and upon graduation I received the most incredible graduation gift. Matt gave me a video of pictures set to music. The video was pictures of everyone that I loved and every incredible moment I had at SMSU. He chose sentimental music to go with the pictures and I could tell he put a lot of time and energy into the video. It was the most beautiful gift I have ever received and as I was watching the video, I couldn't help but think how much I loved Matt and how badly I wanted to marry him. The video ended with the words, "Allison, will you marry me?" I was so excited, happy, and surprised! I cried, asked him if he was serious, and then said YES! Both our families came in and brought us a cake to celebrate. It was a truly magical day. On a beautiful sunny day September 6th 2008 I married Matt. We had an outdoor wedding on a lake in northern Minnesota. I came in from across the lake on a boat and we left down a dirt road in a horse and carriage. I had my dream wedding and married my prince charming. We have been married for 3 and a half incredible years and this past summer when driving through Marshall we stopped at SMSU. We walked around campus and talked about all the wonderful memories we made. We even sat outside BA240 in the exact spot where we met back in 2003. Thank you SMSU for all the memories and Happy Valentines Day!

Submitted by Cheryl (Pack) Jacobson '71
The inaugural freshmen class attending Southwest Minnesota State College had a limited number of courses to select from. A requirement for the "Flux" class every student had to take was to attend the movie "A Man For All Seasons." A guy living in the co-ed F-Hall (the ONLY residence hall in 1967) had continually pestered me in the TV lounge and asked me out several times but I always refused. When we were assigned the movie I decided I could save a couple dollars by letting him take me as our first date. After the movie I became a bit more tolerant of his annoying advances. By the end of our freshman year Jim Jacobson '71 and I were good friends and, in fact, had claimed the hit song "See You In September" as our own. I spent our first summer apart working in northern Minnesota at a resort where he wrote to me every week and then surprised me with a visit for my birthday. We returned to SMSC the fall quarter of '68 as a couple and spent all of our free time together, registering for as many of the same classes as we could, and falling madly in love. Cuddling to watch our fateful TV in the dorm lounge was a nightly occurrence. Spending our weekends at his parents' home in Pipestone or mine in Walnut Grove was not unusual. Jim proposed to me a year later after a friend's wedding and we spent our junior year making wedding plans between classes, term papers and education modules. Knowing that Jim and I would be doing our student teaching in the spring of our senior year and wanting to be together to share that experience, we became husband and wife in June 1970 with several of our friends from SMSC in attendance. Another highlight of our first year as newlyweds was graduating with the charter class of SMSC with degrees in elementary education. Jim and I have been happily married 41 years, raised three sons, and have been blessed with six grandchildren. I treasure a valentine card he gave me many years ago that opened to a picture of television with the verse reading "Valentine, you made me love you." Our relationship began in the residence hall TV room and our love story grew in the halls of SMSC.
 (Submissions edited slightly for clarification purposes and identification of spouses.)