Residence Halls Network
When in the Residence Halls, students will have easy access to both the campus wired network and the campus wireless network for their devices. 
Wireless Network for Mobile Devices, Gaming Consoles, Streaming Devices, and SmartTVs
Students can connect their device using SMSU MyWifi. Connection to this network will be granted after accessing the passphrase portal with the Office 365 credentials (StarID@go.minnstate.edu), and authenticating with the method of choice. The TRC is available at 507-537-6111 or trchelpdesk@smsu.edu for support. See the hours on this page.
Click on the button below or scan the QR code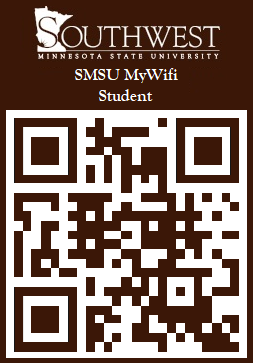 The portal's address is www.smsu.edu/mywifi.
Wired Network for Gaming Consoles, Streaming Devices, and SmartTVs
Each residence hall room is equipped with at least 2 active Ethernet network jacks. Be sure to register the Ethernet (wired) MAC address of your device, including any gaming, streaming or smartTV devices, in the MyDevices portal.  https://mydevices.smsu.edu  
Any unregistered devices connecting to the network will fail to gain Internet access.  Workgroup switches may work to add additional Ethernet ports in a residence hall room.
Note:  All rooms in Sweetland Hall are equipped with active wired connection jacks at the bottom of the white Cisco Access Points on the wall.
Eduroam
Students have access to a service called Eduroam to connect to wireless network. Eduroam is a global wireless service that allows students remain connected to network at any Minnesota state colleges and universities they visit. Contact the TRC if you need help setting this up or follow the instructions in the link below to set
Special Note Regarding Wireless Use in Residence Halls
Please refrain from using such devices as 'personal WIFI routers' and 'hotspots' while in the Residence Halls as they can interfere with the campus WIFI network and reduce the quality of service for everyone. Note that wireless printing capability is not supported in the Residence Hall network.