Students Network Access
When in campus academic buildings and locations such as the Student Center, students will primarily use the campus wireless network for their devices. Wireless access is available for any personal devices used on campus.
Wireless Network
Students should connect their devices using SMSU MyWifi. Connection to this network will be granted after accessing the passphrase portal with the Office 365 credentials (StarID@go.minnstate.edu), and authenticating with the method of choice. The TRC is available at 507-537-6111 or trchelpdesk@smsu.edu for support. See the hours on this page.
Click on the button below or scan the QR code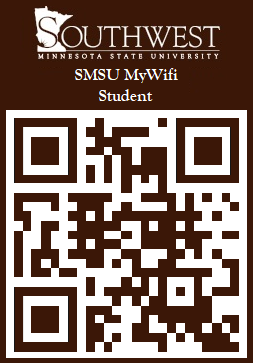 The portal's address is www.smsu.edu/mywifi.
Eduroam
Students have access to a service called Eduroam to connect to wireless, Eduroam is a global wireless service that allows faculty & staff remain connected to network at any Minnesota state colleges and universities they visit. Contact the TRC if you need help setting this up or follow the instructions in the link below to set up your devices.
Airtame
Airtame is a service for displaying content wirelessly on enabled monitors across campus. The Airtame allows the user to share their screen from any device with the capability of installing the Airtame application. The Airtame service is available in many locations on campus.  Locations include smart classrooms, computer labs, conference rooms and library study rooms. The link below provides a well-detailed instruction on how to connect personal devices, and SMSU issued devices to Airtame.