SMSU E-Mail
SMSU Student E-mail
The SMSU Information Technology Services (ITS) provides every student with their own Office 365 E-Mail account. Your E-mail address will usually be firstname.lastname@my.smsu.edu, however your login credential is StarID@go.minnstate.edu.
In order to have access to your SMSU e-mail account you will have to know your StarID username and password.
Please follow the instructions below:
a) To access your e-mail click on the menu link at the top of your screen,

b) then select the Email under the Services section in the menu,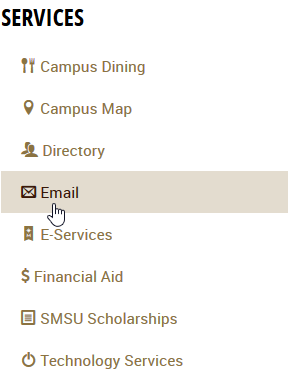 c) then click on the Login to Email button

d) you will have to use your StarID to access your E-mail account.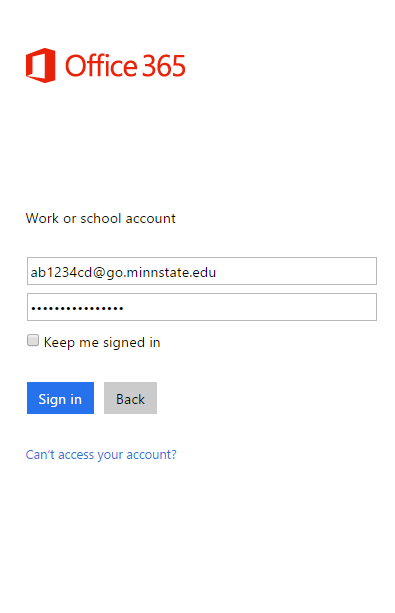 How to access and use OneDrive on Windows and MACs 
Further information regarding your SMSU Email provided at the following Frequently Asked Questions (FAQ).
Frequently Asked Questions (FAQ)
1. What Time Zone should I select when I am setting my E-mail account?
Each e-mail account has a Time Zone attached to it. The correct Time Zone is GMT -06:00 Central Time, US and Canada. This is the Time Zone for this part of the country, but you do not necessarily have to use it as your Time Zone. This is your personal e-mail, and you may customize it how you wish. But, if you choose a different Time Zone, then your e-mail may not correspond properly with other people's e-mails. (For example: If someone sends you a request for an event, or something on your Calendar, and they have it set for noon, but your e-mail is two hours ahead of theirs, then the event itself will change to fit your Time Zone, and you may end up missing the appointment.). So, to change your Time Zone even after you've set up your e-mail, go to 'Options', 'Settings', and 'Regional'.
2. I cannot send or receive any e-mails. What is wrong with my account?
If you cannot send or receive e-mails, or are experiencing other issues, try deleting messages from your Outbox, Sent items, and Inbox. (Especially messages with attached pictures, or other large attachments). Too many messages taking up too much space can often be a reason for e-mail malfunctions. If you delete quite a lot of messages and you still cannot send or receive, or are still experiencing a different issue, please contact the Technology Resource Center Helpdesk.
3. How can I create and attach a Signature to my account?
To attach a Signature to your e-mails, go to 'Options', 'Settings', and type what you want for a signature. This signature will then be at the bottom of every e-mail you send. If/when you wish to no longer have a signature, just go back and delete everything out of the Signature text box.
4. I tried to log in to my E-mail account and I received the message that I am Locked Out. What is the issue with my account?
If you have accessed your account, but are locked out, then try to wait for 30 minutes and try to log in again on your account. If you still have issues you can either try to reset your Password or contact the TRC HelpDesk. Please see our Star ID  page for help on resetting your StarID Password.
5. How can I set my SMSU E-mail account on my Cell phone, Tablet or IPod?
To set up your E-Mail on a SmartPhone, please select your device and follow the instructions below:
Setting up Microsoft Outlook on your Iphone and Android devices
6. I received an E-mail that asks me to submit my private information and passwords. The E-mail supports that it comes from an IT Administrator. What should I do?
Phishing e-mails are becoming very common, If you receive any e-mail that you consider suspicious for example it tells you your account will be terminated (erased, relocated, etc...) unless you give them your personal information, DO NOT GIVE THEM YOUR PERSONAL INFORMATION. If the e-mail asks for your Mustang ID, your password, your Social Security number, or anything of the sort, then it is most probably not a legitimate e-mail. Please follow the steps in the link below to report a phishing email.
How to report a Phishing email using Microsoft Outlook 
7. I have some more questions about my Microsoft Office 365 E-mail account. Where should I look?
The SMSU Technology Resource Center will be happy to help you with any other questions or concerns you may have. If you need immediate assistance, but are unable to reach the TRC Helpdesk, try Microsoft Outlook Help.
8. How can I set my PC Outlook to be connected with my SMSU E-mail?
To get your Office 365 E-Mail to sync with Microsoft Office Outlook on your personal computer, please follow these instructions.
If you try to access your e-mail account and you receive the message that your account is blocked that means that you need to change your StarID password. You have either received an expiration e-mail that indicates that your StarID password was about to expire or either you have used the wrong password for several times and the security system blocked your account. Instructions for changing your StarID password are available in the StarID Info page. Please not that after you change your StarID password it can take up to 3 hours for the new password to sync with your e-mail account. The password will automatically updated for the rest of the SMSU services.
10. What is the e-mail address that I will be using?
Your SMSU e-mail is your Firstname.Lastname@smsu.edu. When you log in then for security reasons you use your StarID credentials.
To access the other pages under the Student Assistance tab, click on the links below