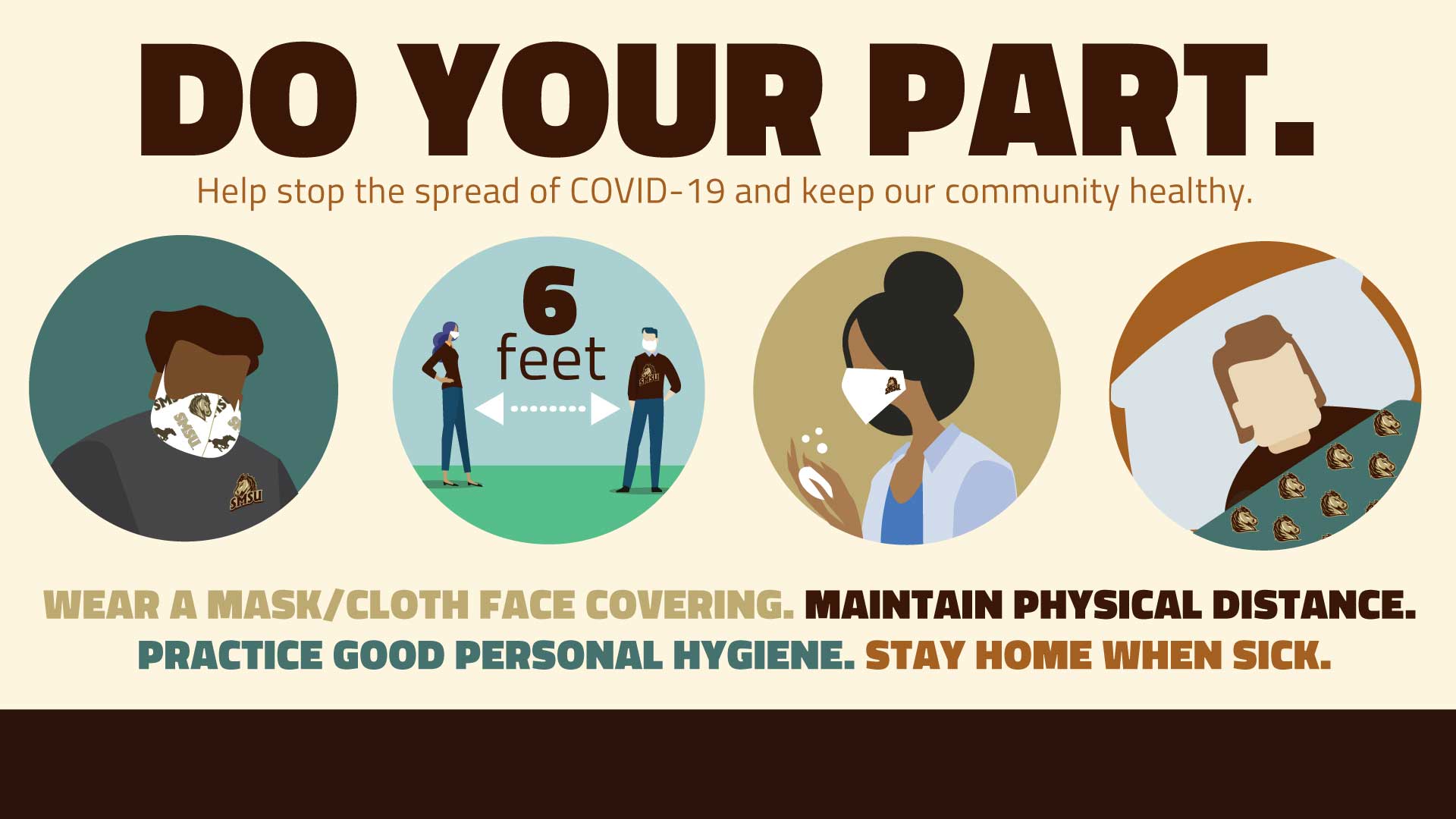 Daily Health Assessment Tool
Protect Yourself Protect Others
SMSU Building Services
Mask Guidelines
Technology Cleaning
---
We are asking all employees and students to follow CDC guidelines and to follow preventative measures to safeguard yourself and others around you as best as possible. These measures include:
Self-screening: employees and students will be asked to self-screen daily for COVID-19 symptoms prior to coming to work. If you are feeling ill, stay home and call your supervisor.
Practicing good hygiene: washing your hands with soap and water for at least 20 seconds, and/or using hand sanitizer, covering your mouth when you cough or sneeze, if using a tissue, throwing the tissue away after use. Hand sanitizer will be available in most offices and classrooms and in key locations around campus. Avoid touching your face, in particular your mouth, nose, and eyes, with your hands.
Physical distancing: keeping a minimum of six (6) feet in all directions between you and other persons both inside and outside.
Cleaning and sanitizing: cleaning and sanitizing will occur regularly.


Classrooms will be equipped with cleaning supplies.
All students and employees will be responsible for keeping their workspaces, student seating and learning areas as well as equipment clean and sanitized. To help reduce the spread of coronavirus, cleaning of workspaces, seating, surfaces, and equipment should occur when entering a location, between users and upon leaving an area.

Wearing cloth face coverings: cloth face coverings will be required on campus as of July 6.


Wearing a mask or cloth face coverings may not protect you from others who may spread the virus. Masks or cloth face coverings can help with preventing your germs from infecting others – especially in situations where you may spread the virus though you do not have symptoms.
Face coverings must be worn by any person in a public area which includes common workspaces, hallways, elevators, meeting rooms, classrooms, breakrooms, restrooms, etc.
Face coverings are NOT required to be worn while at your workstation as long as there are no students or other employees within your workstation or office.
Face coverings must cover the nose and mouth.
One logo face mask will be provided to each student and employee who will be on campus. Employees and students should have additional masks available as masks should be washed daily.
Last Modified: 8/26/20 9:15 AM