One Community, One Church, Two Towns: The Poles of Southwest Minnesota, 1882-1905
By John Radzilowski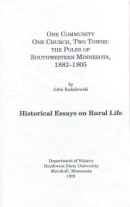 Part of the Historical Essay Series, this essay focuses on the Polish communities of Lincoln County, Wilno and Ivanhoe, and immigrants' trip from halfway around the world to a new life. It provides a history on the first settlements and describes the meshing of cultures.
"People have traveled more miles, but few have journeyed farther."
-John Radzilowski
The Historical Essay Series is edited by Dr. Joseph Amato, former director of Rural Studies, with the assistance of Donata DeBruyckere, Janice Louwagie, and Dr. Thaddeus Radzilowski. It is published by the Southwest Minnesota State University History Department, the History Club, the History Center, and the Rural Studies program. It is partially sponsored and distributed by the Society for the Study of Local and Regional History. Assisting with the publication are Southwest Minnesota State University Word Processing Center and Duplicating Services.
---
John Radzilowski attended Southwest Minnesota State University, where he received a B.A. in history. This essay was originally published in Polish American Studies. It is excerpted, in part, from the author's book, "Out on the Wind:" Poles and Danes in Lincoln County, Minnesota, 1880-1905.
SSLRH, 1991
#20
---
Price: $4.00