In Search of the 1920's Farm Depression: A Study of Rock Lake Township, Lyon County, Minnesota
By Paul VanMeveren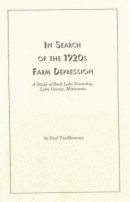 This essay is part of the Historical Essay Series and was given the Visser award for the best paper in the 1992-93 History Seminar.
"This study will examine Rock Lake Township, Lyon County, Minnesota, as a model of the hardships faced by the rest of the nation during the agricultural depression of the 1920s...This essay will examine the effects of the agricultural depression as they move from national, state, and county to the township level. This essay seeks to show the causes of the depression on the national level and how increasing mechanization changed farming during the 1920s. Furthermore, it will describe the environmental and economic conditions of Rock Lake Township, Lyon County, at that time."

-Paul VanMeveren
The Historical Essay Series is edited by Dr. Joseph Amato, former director of Rural Studies, with the assistance of Donata DeBruyckere, Janice Louwagie, and Dr. Thaddeus Radzilowski. It is published by the Southwest Minnesota State University History Department, the History Club, the History Center, and the Rural Studies program. It is partially sponsored and distributed by the Society for the Study of Local and Regional History. Assisting with the publication are Southwest Minnesota State University Word Processing Center and Duplicating Services. Additional thanks for supporting go to the State University Q7 Initiative Fund.
---
Paul VanMeveren attended South Dakota State University from 1982 to 1983. In 1984, Paul attended Jackson Area Vo-Tech for Construction Electrician, graduating in 1986. Beginning in 1986, Paul worked as an apprentice electrician before going back to college at Southwest Minnesota State University in 1993 with a B.A. in History. Since graduating, Paul has returned to electrical work.
SSLRH, 1994
#27
---
Price: $4.00