Draining the Great Oasis: An Environmental History of Murray County, Minnesota
Edited by Anthony J. Amato, Janet Timmerman, and Joseph A. Amato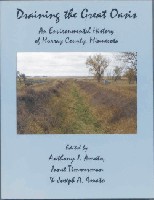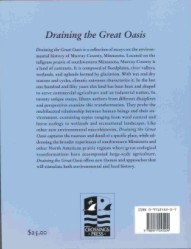 Draining the Great Oasis is a collection of essays on the environmental history of Murray County, Minnesota. Located on the tall grass prairie of southwestern Minnesota, Murray County is a land of contrasts. It is composed of floodplains, river valleys, wetlands, and uplands formed by glaciation. With wet and dry seasons and cycles, climatic extremes characterize it. In the last hundred and fifty years this land has been bent and shaped to serve commercial agriculture and an industrial nation. In twenty unique essays, fifteen authors from different disciplines and perspectives examine this transformation. They probe the multifaceted relationship between human beings and their environment, examining topics ranging from weed control and horse ecology to wetlands and recreational landscapes.
These essays include:
A Wet and Dry Landscape by Anthony Amato
Crops and Land Use by Geoff Cunfer
Geology by Thomas Dilley
Soils by Neal Eash
Wetlands by Doug Spieles
Mammals by Elizabeth Desy
Birds by Janet Timmerman
Birding by Robert Janssen
Native Prairie by Janet Timmerman
Lake Shetek by Beth Spieles
Draining the Great Oasis by Janet Timmerman
Ditches by Geoff Cunfer and Dennis Guse
Roads by Joseph Amato
Horse Ecology by Geoff Cunfer
Barns by David Pichaske
Weeds by Nancy Brown
Hogville by Lisa Gerber
Crazy Acres by Richard Vanderziel
A Home Lake by Jim Muchlinski
Bibliographic Essay and Annotated Bibliography by Beth Spieles
Like other new environmental microhistories, Draining the Great Oasis captures the nuances and detail of a specific place, while addressing the broader experiences of southwestern Minnesota and other North American prairie regions where great ecological transformations have accompanied large-scale agriculture. Draining the Great Oasis offers new themes and approaches that will stimulate both environmental and local history.
Crossings Press, 2001
#33
---
Price:
$25.00 per individual copy
$15.00 per book for orders of five or more copies