The Genesis and Construction of the Winona and St. Peter Railroad
By Alan Woolworth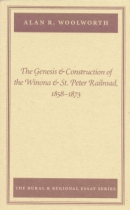 Part of the Rural and Regional Essay Series, this essay tells the story of the railroads in local and regional detail, which, in many ways, mirrored the prairie and the people it served. This essay provides an overview of the origins and construction of the Winona and St. Peter Railroad and enumerates the difficulties and obstacles that threatened to thwart the completion of this small, but significant rail line.
---
"The Winona & St. Peter, an early predecessor of Chicago & North Western in southern Minnesota and eastern Dakota Territory, is a worthy subject of study in several respects. Its history was integral to early statehood for Minnesota; its land grant reflected contemporary thinking that prompt settlement of the then West was imperative; its early purposes--linking natural highways (the Mississippi and Minnesota Rivers) by rail--mirrored wisdom of the time; and, its acquisition by C&NW served to further flesh out Chicago's territorial domain.
Alan Woolworth has provided an enticing snapshot of Winona & St. Peter so enticing that one hopes he will produce a full study of this important enterprise. The story is well told and the author has made impressive use of local newspaper resources. He has the facts down (although it was Cooke & Co. and not Gould & Co. that failed in 1873, page 33) and he places his work in proper context. But there is so much more to know about Winona & St. Peter."
Don L. Hofsommer, St. Cloud State University
Railroad History, The Railway & Locomotive Historical Society, 185, Autumn 2001
---
The Rural and Regional Essay Series is a companion series and successor to the Society for the Study of Local and Regional History's Historical Essays on Rural Life. Its goal is the publication of essays that offer distinct and seminal insights into rural and regional affairs. This series encompasses a wide range of history and the social sciences, and its editorial board welcomes innovative writings on a variety of rural and regional subjects.
The series is edited by Professor Joseph A. Amato with the assistance of Donata DeBruyckere, Janice Louwagie, and John Radzilowski. It is published, supported, and distributed by the Society for the Study of Local and Regional History and the History Center at Southwest Minnesota State University in Marshall, Minnesota. Initial funding for this series was received from Southwest Minnesota State University and it Gunlogson Regional Research Fund, with additional funding from the Minnesota Humanities Commission.
---
Alan R. Woolworth graduated from the University of Nebraska in 1950, and the University of Minnesota in 1956, he specialized in History and Anthropology. Woolworth was an archaeologist for the State Historical Society of North Dakota and excavated endangered sites on the Missouri River from 1952-1957. He was employed by the Minnesota Historical Society as Museum Curator, 1960-1968; as Chief Archaeologist 1969-197, and as a Research Fellow Emeritus at the Minnesota Historical Society.
From 1961 to 1975, Woolworth directed archaeological excavations at the Grand Portage National Monument on the North Shore of Lake Superior, and also has undertaken extensive historical research and written many archaeological and historical reports on this internationally significant eighteenth century fur trade site. From 1965-1982, Woolworth served as a consultant for the U.S. Department of Justice on many Indian Land Claims cases. He was also involved with Cultural Resources Management in Minnesota and the Dakotas during 1973-1985. He also edited The Minnesota Archaeologist and many monographs from 1975 to 1981.
Woolworth's major research interests are the regional fur trade, historical archaeology, history of the Northern Great Plains, the Santee Dakota Indians, and the tragic Dakota Conflict of 1862.
SSLRH, 2000
#7
---
Price: $5.00