You Can Never Say We Didn't Try: The National Farmers Organization in Lyon County, Minnesota, 1962-1988
By Donata DeBruyckere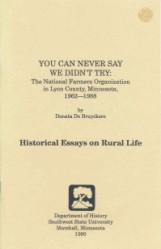 Part of the Historical Essay Series, this essay describes the difficulty involved in starting the National Farmers Organization, both nationally and locally, from the perspective of one of Lyon County's NFO organizers. It discusses the feelings and risks involved with joining or not joining the organization. It also details some powers the organization had and some powers it still retains today.
The Historical Essay Series is edited by Dr. Joseph Amato, former director of Rural Studies, with the assistance of Donata DeBruyckere, Janice Louwagie, and Dr. Thaddeus Radzilowski. It is published by the Southwest Minnesota State University History Department, the History Club, the History Center, and the Rural Studies program. It is partially sponsored and distributed by the Society for the Study of Local and Regional History. Assisting with the publication are Southwest Minnesota State University Word Processing Center and Duplicating Services. Additional thanks for supporting go to the State University Q7 Initiative Fund.
---
Donata DeBruyckere is a graduate of Southwest Minnesota State University, where she majored in history and political science and minored in speech communication and rural studies. She and her husband were active members of NFO for over 25 years.
SSLRH, 1990
#11
---
Price: $4.00