Norwegians on the Land
By Odd S. Lovoll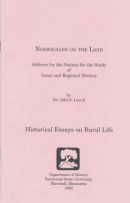 Part of the Historical Essay Series, this essay shares the importance of Norwegians in rural areas and the life they faced in Minnesota. It details the spread of Norwegian settlement, the economic factors they adjusted to, and the role of religion in their lives.
The Historical Essay Series is edited by Dr. Joseph Amato, former director of Rural Studies, with the assistance of Donata DeBruyckere, Janice Louwagie, and Dr. Thaddeus Radzilowski. It is published by the Southwest Minnesota State University History Department, the History Club, the History Center, and the Rural Studies program. It is partially sponsored and distributed by the Society for the Study of Local and Regional History. Assisting with the publication are Southwest Minnesota State University Word Processing Center and Duplicating Services. Additional thanks for supporting go to the State University Q7 Initiative Fund.
---
Dr. Odd S. Lovoll is Professor of Norwegian and History at St. Olaf College, Northfield, Minnesota, and the editor of the publications of the Norwegian-American Historical Association. One of his books is A Century of Urban Life: The Norwegians in Chicago Before 1930 (1988). In 1986 H.M. King Olav V of Norway, in recognition of his contributions to the study of Norwegian-American history, decorated him with the Knight's Cross of the Royal Norwegian Order of Merit and 1992 appointed him Professor of Scandinavian-American Studies.
SSLRH, 1992
#15
---
Price: $4.00