Patriotic Pressures, WW I: The Dutch Experience in Southwest Minnesota During World War I
By Robert Schoone-Jongen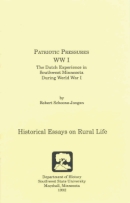 Part of the Historical Essay Series, this essay focuses on the harsh realities and painful choices of immigrants during the Great War, specifically in Minnesota. It describes the difficult life they faced trying to prove their worth while adjusting to their new life.
The Historical Essay Series is edited by Dr. Joseph Amato, former director of Rural Studies, with the assistance of Donata DeBruyckere, Janice Louwagie, and Dr. Thaddeus Radzilowski. It is published by the Southwest Minnesota State University History Department, the History Club, the History Center, and the Rural Studies program. It is partially sponsored and distributed by the Society for the Study of Local and Regional History. Assisting with the publication are Southwest Minnesota State University Word Processing Center and Duplicating Services. Additional thanks for supporting go to the State University Q7 Initiative Fund.
---
Robert Schoone-Jongen received his A.B. in History from Calvin College and his M.A. from the University of Kentucky. Since 1975 he has taught social studies at Southwest Christian High School in Edgerton, Minnesota. He lives in Edgerton, the Dutch capital of Minnesota.
SSLRH, 1992
#22
---
Price: $4.00