Pipestone and the Red Rock: Inventing Peoples and Towns
By Joseph A. Amato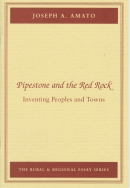 Now part of the Rural and Regional Essay Series, "Pipestone and the Red Rock" is a chapter from Joseph Amato's book, Rethinking Home: A Case for Writing Local History. In "Pipestone and the Red Rock," the author tackles a difficult topic: the many meanings and the elusive past of one town. Amato's town, Pipestone, occupies a special place in the landscape of southwestern Minnesota. A peculiar deposit of red rock makes the town one of only a handful of sites where Native Americans quarry stone for ceremonial pipes, and the quarry sets this otherwise ordinary county seat and trade center apart from its neighbors. The rock and the quarry offer special insights into Native Americans' pasts, and Amato argues that the town has a past as rich as the color of the red rock quarried there.
The Rural and Regional Essay Series is a successor series to the Society for the Study of Local and Regional History's Historical Essays on Rural Life. Its goal is the publication of essays that offer distinct and thoughtful insights into rural and regional affairs. This series encompasses works from a wide range of disciplines, and its editorial board welcomes innovative writings on a variety of rural and regional subjects.
The series is edited by Professor Anthony Amato with the assistance of Donata DeBruyckere and Janice Louwagie. It is supported, and distributed by the Society for the Study of Local and Regional History and the Center for Rural and Regional Studies at Southwest Minnesota State University in Marshall, Minnesota. Initial funding for this series was received from Southwest Minnesota State University and it Gunlogson Regional Research Fund, with additional funding from the Minnesota Humanities Commission.
SSLRH, 2002
#2
---
Price: $5.00