Prairie, Lakes, and People: The Archaeology of Southwestern Minnesota
By Scott Anfinson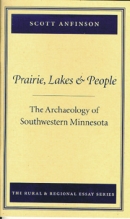 Part of the Rural and Regional Essay Series, this essay describes the prehistory of southwestern Minnesota, including its environment and cultural history. This essay covers the early prehistoric period through the late prehistoric period. It focuses on the archaeology of the area and the changes that occurred through various periods.
The Rural and Regional Essay Series is a companion series and successor to the Society for the Study of Local and Regional History's Historical Essays on Rural Life. Its goal is the publication of essays that offer distinct and seminal insights into rural and regional affairs. This series encompasses a wide range of history and the social sciences, and its editorial board welcomes innovative writings on a variety of rural and regional subjects.
The series is edited by Professor Joseph A. Amato with the assistance of Donata DeBruyckere, Janice Louwagie, and John Radzilowski. It is published, supported, and distributed by the Society for the Study of Local and Regional History and the History Center at Southwest Minnesota State University in Marshall, Minnesota. Initial funding for this series was received from Southwest State University and it Gunlogson Regional Research Fund, with additional funding from the Minnesota Humanities Commission.
---
Dr. Scott Anfinson received his BA and doctorate degrees in anthropology from the University of Minnesota. Since 1975, he has been employed by the Minnesota Historical Society, first as the Project Manager for the Municipal-County Highway Archaeology Program, and currently as the National Register Archaeologist. Dr. Anfinson's major writings include The Lake Bronson Site: A Multi-Component Prehistoric Site on the Prairie-Woodland Border in Northwestern Minnesota (with Michael Michlovic and Julie Stein), The Minnesota Archaeologist (vols. 48-49), and Archaeological and Historical Studies of Minnesota's Lake and Superior Shipwrecks.
SSLRH, 1999
#3
---
Price: $5.00