Rally of Resolve: The Home Front in Lyon County, Minnesota
By Thomas McCausland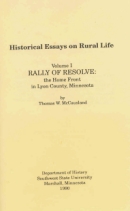 Part of the Historical Essay Series, this essay shares the stories of several people in Lyon County, Minnesota, during World War II and their contribution to the Home Front. It also defines who the real enemy was and describes the impact war had on the lives of the Lyon County citizens, from rationing, to women's roles, to the absolute horrors of the news brought back. It details the intimate relationships developed during the war and the final breath of peace brought by the war's end.
The Historical Essay Series is edited by Dr. Joseph Amato, former director of Rural Studies, with the assistance of Donata DeBruyckere, Janice Louwagie, and Dr. Thaddeus Radzilowski. It is published by the Southwest Minnesota State University History Department, the History Club, the History Center, and the Rural Studies program. It is partially sponsored and distributed by the Society for the Study of Local and Regional History. Assisting with the publication are Southwest Minnesota State University Word Processing Center and Duplicating Services. Additional thanks for supporting go to the State University Q7 Initiative Fund.
---
Thomas McCausland is a 22 year veteran of the United State Marine corps and a graduate of Southwest Minnesota State University.
SSLRH, 1990
#17
---
Price: $4.00