Rivers and the Making of a Nation
By Peter C. Mancall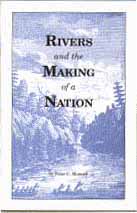 Part of the Historical Essay Series, this essay discusses the abundance of rivers in the United States and their importance to the country, both before European settlement and after. It also describes both the beauty of rivers and their role in development of the U.S.
The Historical Essay Series is edited by Dr. Joseph Amato, former director of Rural Studies, with the assistance of Donata DeBruyckere, Janice Louwagie, and Dr. Thaddeus Radzilowski. It is published by the Southwest Minnesota State University History Department, the History Club, the History Center, and the Rural Studies program. It is partially sponsored and distributed by the Society for the Study of Local and Regional History. Assisting with the publication are Southwest Minnesota State University Word Processing Center and Duplicating Services. Additional thanks for supporting go to the State University Q7 Initiative Fund.
---
Professor Peter C. Mancall is the director of Undergraduate Studies, Department of History at the University of Kansas. He received his doctorate in History from Harvard University in 1986. He also served at Harvard as lecturer on History and Literature from 1987-1989. He has held a Mellon Research Fellowship and Arts Faculty Fellowship at the National University of Ireland and the Charles Warren Center Fellowship at Harvard University. Professor Mancall has authored Valley of Opportunity: Economic Culture Along the Upper Susquehanna, 1700-1800 (1991) and Deadly Medicine: Indians and Alcohol in Early America, and has edited River Country: American Writers and American Rivers From the Sixteenth Century to the Present.
SSLRH, 1995
#16
---
Price: $4.00