The Sounds of a Developing Prairie Town: Marshall, Minnesota 1872-1918
By Mary Kay Broesder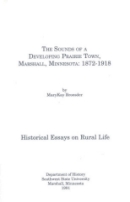 Part of the Historical Essay Series, this essay evokes the variety of sounds encountered in Marshall, Minnesota during its first several decades as a growing prairie town.
The Historical Essay Series is edited by Dr. Joseph Amato, former director of Rural Studies, with the assistance of Donata DeBruyckere, Janice Louwagie, and Dr. Thaddeus Radzilowski. It is published by the Southwest Minnesota State University History Department, the History Club, the History Center, and the Rural Studies program. It is partially sponsored and distributed by the Society for the Study of Local and Regional History. Assisting with the publication are Southwest Minnesota State University Word Processing Center and Duplicating Services. Additional thanks for supporting go to the State University Q7 Initiative Fund.
---
MaryKay Broesder is a graduate of Southwest Minnesota State University, where she earned a degree in History and Art.
SSLRH, 1991
#10
---
Price: $4.00