Marshall Festival '15 is Oct. 22-24
Published Thursday, October 08, 2015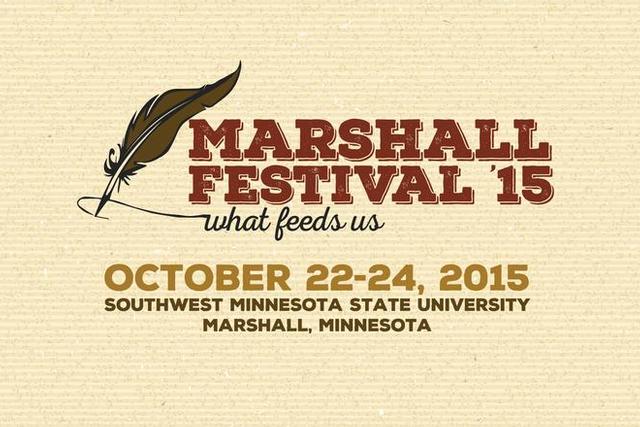 Marshall Festival 2015 Graphic
"Marshall Festival '15: What Feeds Us" will bring together familiar favorites and emerging writers during its three-day run at Southwest Minnesota State University Oct. 22-24.
SMSU has gained a reputation over the years for the great writers it gathers and celebrates. This year's festival will feature a number of past Festival participants, as well as first-time authors from across the Midwest.
"The theme, 'What Feeds Us,' refers to sustainability. It fits the writing life," said event organizer Marianne Zarzana, Assistant English Professor at SMSU. "Why do we do this thing that doesn't necessarily result in money? It feeds us on another level, and people get excited about it."
She said the festival will feature "artists and performers, It's going to be a nice mix of different types of art forms."
The festival kicks off in the afternoon on Thursday, Oct. 22. The format includes two concurrent sessions — Track One and Track Two — a dinner break, and featured readings/entertainment in the evening. Saturday will include just one track.
All the Marshall Festival '15 events will take place in the SMSU Conference Center except for: Performance of "Ady" by Rhiana Yazzie, Friday, Oct. 23, Black Box Theatre; Cheryl Minnema, Sat., Oct. 24, 2-3 p.m., children's reading of Hungry Johnny, new children's wing, Marshall-Lyon County Library; Marshall Festival '15 "What Feeds Us" farewell potluck, Sat., Oct. 24, 5-6:30 p.m., SMSU Campus Religious Center; spoken word performance, Sat., Oct. 24, 9-11 p.m., Brau Brothers Tap Room, Marshall.
There are several featured performers who will be a part of the Festival and give evening presentations. They include:
Susan Power, an author from Chicago, Ill. Her debut novel, Grass Dancer, received the 1995 Hemingway Foundation/PEN Award for Best First Fiction. She is a descendant of the Sioux Chief Mato Nupa, and is a former editor of the University of Chicago Law Review. She will read Thursday evening, Oct. 22.
Gordon Henry is a poet and fiction writer and an enrolled member of the White Earth Band of Ojibwe of Minnesota. He is a professor of English at Michigan State University. He will read Thursday evening, Oct. 22.
Philip Dacey is an Emeritus Professor of English at SMSU and the author of 13 full-length books of poems, most recently Church of the Adagio. He has won numerous awards, including three Pushcart Prizes, and was recipient of numerous fellowships (Fulbright, Woodrow Wilson, Bush Foundation, Loft-McKnight, Minnesota State Arts Board). He will read Friday evening, Oct. 23.
David Allan Evans was appointed South Dakota Poet Laureate in 2002. He was a professor of English and Writer in Residence at South Dakota State University, and is the author of nine collections of poetry and the author or editor of seven other books. He was the first South Dakotan to receive a National Endowment for the Arts grant. He will read Friday evening, Oct. 23.
Bart and Ross Sutter have become regional favorites over the years and are regular contributors to past Marshall Festival events. Bart is a 1972 alumnus and the author of seven books. He is the only Minnesota author to win three Minnesota Book Awards in three separate categories — poetry, fiction and creative nonfiction. Ross is known for his baritone voice and mastery of a wide array of instruments. They will perform Saturday evening, Oct. 24.
The Marshall Festival '15 or the complete schedule visit: www.SMSU.edu/MarshallFestival
Marshall Festival '15 is sponsored by SMSU's Access Opportunity Success (AOS) program and the SMSU Office of Diversity and Inclusion that makes it possible to fund our Native American writers who are past contributors to Yellow Medicine Review, SMSU's journal of indigenous voices. SMSU Foundation also provided financial support and the SMSU Alumni Association helped without outreach to SMSU graduates.
Related Articles