Agronomy Students Earn National Honors
Published Wednesday, May 25, 2011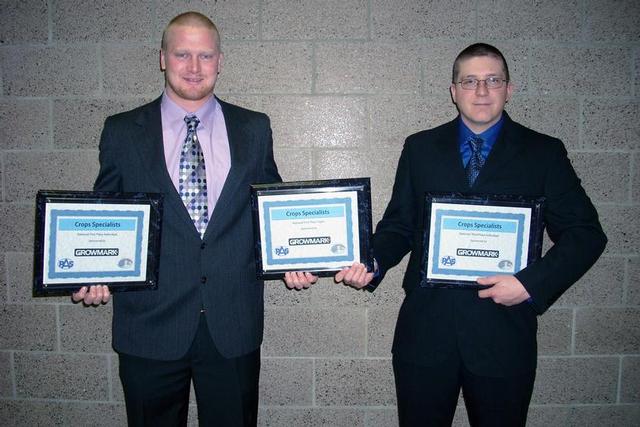 Ben Nath and Anthony Hansen, holding their NPAS awards.
By Carol Stender
Agri-News Staff Writer
Two Southwest Minnesota State University agronomy majors took first place in a National Postsecondary Agricultural Student competition in March.
Senior Ben Nath and junior Anthony Hansen competed against 32 two-person teams and five individual participants in NPAS' crop specialist contest. Besides their first place win as a team at the Springfield, Ill., contest, Nath took first and Hansen third for individual high scores.
Their top placing is a special honor for the university. SMSU started its agronomy program just three years ago. For the past two years the school's teams qualified for national competition, said Grace Armah-Agyeman, director of SMSU's agronomy program.
"We were competing against other big ag schools like Iowa State and SDSU," Hansen said. "To come out on top of schools like that is a great feeling."
They received a plaque and $200 for their team win and plaques for individual high scores.
Southwest State's agronomy curriculum, which includes four credits of internships, helped prepare Nath and Hansen for the contest, they said.
Three sections were in the competition. Two of the sections focused on individual knowledge and involved a test with questions from the actual crop consultants test and another focusing on weed, seed and plant identification. The third section is a practicum using team skills to solve a cropping problem and calculate fertilizer and herbicide application rates.
Both Nath and Hansen plan to work as crop consultants after they graduate.
Nath has interned at Central Crop Consultants in Marshall and will return there for another internship this year. He hails from Luverne, where his family raised crops and a variety of livestock on a hobby farm.
He originally majored in physical education when he came to Marshall, Nath said. But his interest in crops prompted him to change his major. He will graduate this spring .
Hansen grew up in Truman and worked on his maternal grandfather's farm. He also joined the National Guard and was deployed with the 34th Infantry Division to Iraq in 2005. He returned in 2007 and started farming with his grandfather and a cousin. The schedule was a tough one, he said.
He was attending South Central College in North Mankato, farming and continuing with the National Guard. He decided to focus on his education and transferred to Marshall. He chose the college because of its agronomy program. Southwest is also the only MnSCU college that offers a four-year agronomy degree. The program also has scholarships available.
For more information on the university's agronomy program, contact Grace Armah-Agyeman at (507) 537-7380 or visit the school's website and click on agronomy.
(Agri-News is based in Rochester, Minn., and is Southeast Minnesota and Northern Iowa's resource for agricultural news, auctions, classifieds and events. Its website is: AgriNews.com)
Related Articles