SMSU and The Schwan Food Company Team Up In Wellness Project
Published Wednesday, December 19, 2012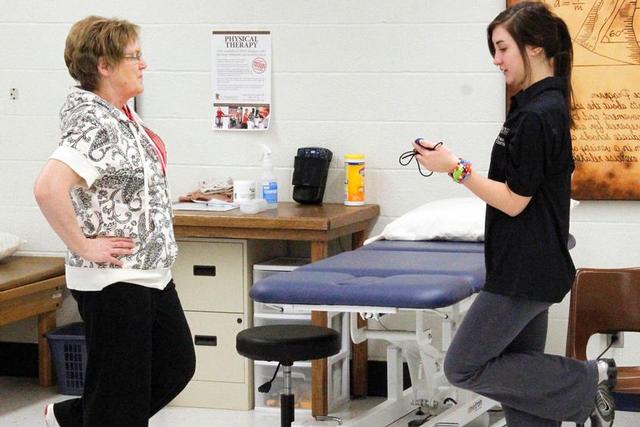 Student Britta Gibson, right, works with The Schwan Food Company employee Joan Woodford
The SMSU Wellness and Human Performance Center recently completed a pilot fitness program with The Schwan Food Company during the fall 2012 semester. The program matched Schwan employees with SMSU Exercise Science majors to achieve individual fitness goals.
The purpose of the program was to help employees reach their individual wellness goals while giving SMSU Exercise Science students practical experience.
"The concept is service learning," said Kris Cleveland, assistant professor of Exercise Science at SMSU. "This is an opportunity for our students to put into practice some of what they have learned prior to entering into their internships. It's also an opportunity for The Schwan Food Company employees to improve their health as part of the company's health and wellness program."
The students met one-on-one with the employees at the start of the program to establish personal goals, which included increased flexibility, strength and endurance. "It's very individualized," said Cleveland. After establishing formal goals and meeting with the employees during the week, post-testing was conducted. A student and an employee then evaluated the data to see what gains were made over the eight-week program.
Most of the students participated in the program as part of their Fitness Assessment and Exercise Prescription class.
The program included 20 students working one-on-one with 20 employees. During the upcoming spring semester, 50 Schwan employees will be involved, "so a student might be working with two or three employees, depending on their comfort level," said Cleveland.
Students worked with the employees two to three times per week, at the university. "They met whenever the client was able to," said Cleveland. "That was as early as 6 a.m., or into the evening. Whenever it was convenient for the Schwan employee."
Schwan employee Joan Woodford, who works at the company's Distribution Center in Marshall, was paired with Britta Gibson, a senior Exercise Science major from Little Canada, Minn. After eight weeks, Woodford said she can tell the difference. "I've lost three pounds so far, and it has helped my energy level," said Woodford, who lives with her husband Roy southeast of Garvin Park.
"This will be an ongoing program with The Schwan Food Company," said Cleveland. "Next semester it will grow to include more employees. Our students have really been excited about this opportunity and we look forward to working with them in the future."
"We feel it's important to offer tools and resources that assist employees and their families both personally and professionally and contribute to overall health and well-being," said Melissa Vaughn, Wellness Manager at The Schwan Food Company. "The program with SMSU allows us to take wellness beyond the workplace setting and develops a beneficial program that employees can use within the community."
The Schwan Food Company has had a highly active employee health and wellness program and saw the partnership with SMSU as a way to enhance current activities. Earlier this year, the company's programs were recognized by ComPsych's Health at Work Award program and named on the Minneapolis/St. Paul Business Journal's "Healthiest Employers" list.
Related Articles