Tabaka Featured in Public Television's 'Postcards'
Published Thursday, January 15, 2015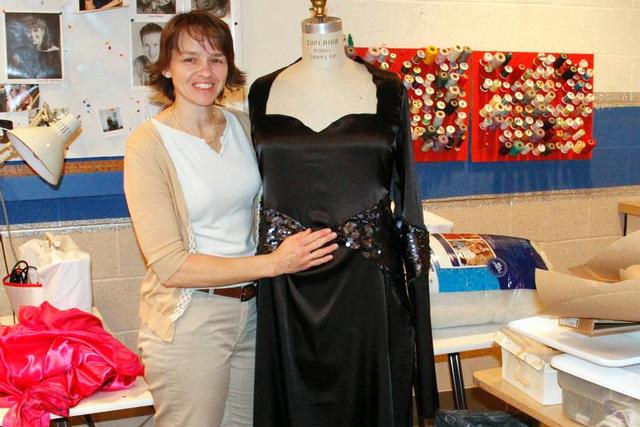 Sheila Tabaka, with one of the dresses
 SMSU Theatre Professor Sheila Tabaka will be featured on the Pioneer Public Television show "Postcards" on Sunday, Jan. 25 at 7 p.m.
The show will include three segments. Tabaka's is the final one, and will be about her costuming abilities, and about a pair of dresses that she designed a year ago for the play The Heiress that were later loaned to a theatre company in London, England.
Social media is the reason the dresses were able to make the journey from Marshall to London. "When I was making the dresses, some students and (Theatre Professor) Nadine (Schmidt) were taking some pictures and put them on Twitter," said Tabaka. "Pat (Driver, the director of The Heiress production in London) saw them, and that's where things got rolling."
The two dresses were personally carried to London by Jim and Marianne Zarzana from the English Department at SMSU, who happened to be going to London prior to the July 18, 2014 opening of the show there.
"That was nice of them, because shipping was going to be ridiculous," she said. "They were able to just drop them off, and we got them back when the show was over."
A Pioneer Public Television crew came to campus last summer to video the piece.
The two dresses will appear at the Region V Kennedy Center American College Theatre Festival next week at Normandale Community College in Bloomington. "They do a highlight of costumes and The Heiress costumes were chosen to be featured," said Tabaka.
Pioneer Public Television is a viewer-supported station serving western and southwestern Minnesota, northwestern Iowa and the eastern Dakotas.
The program will be repeated on Monday, Jan. 26 at 1:30 p.m. and on Thursday, Jan. 29 at 7 p.m. It will also b e available for online viewing on the morning of Jan. 26 at: www.pioneer.org/postcards.
Related Articles