SMSU Theatre Wins 4 Awards
Published Wednesday, January 21, 2015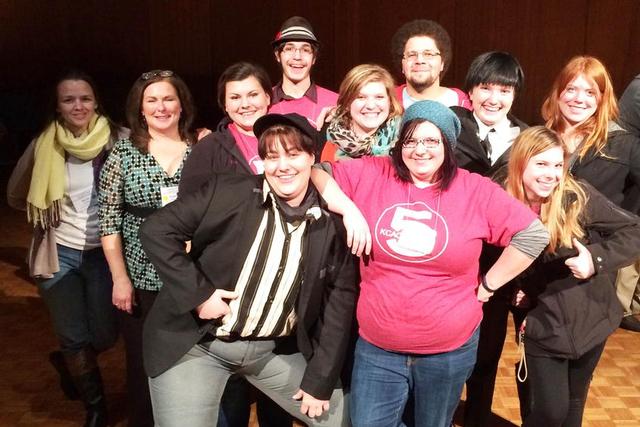 Some of the SMSU contingent at the festival
Thirteen Southwest Minnesota State University students represented the university at the District V Kennedy Center American College Theatre Festival, held at Normandale Community College in the Twin Cities this week.
SMSU received four Meritorious Awards during the week-long event, including:
Costume Design, for The Heiress
Costume Design, for The Comedy of Errors
Ensemble Acting, for a scene from The Comedy of Errors
Creative Concept, for the melding of The Comedy of Errors with the Beatles' A Hard Day's Night.
SMSU students who participated included:
Emilie Baartman
Anna Eben
Tony Falk
Callie Frank
Joel Gay
Kyle Havlicek
Turi Jystad
Thomas Knudson
Sara Mills
Alex Pikala
Anna Polak
Payton Shively
Em Woodrow
Faculty members Nadine Schmidt, Leazah Behrens and Sheila Tabaka also attended, along with staff member Bob Schwoch.
The SMSU contingent helped host the event. Costumes for the two productions were included in the Costume Parade, as was a selected scene from The Comedy of Errors, which was a part of the Invited Scene Showcase.
Outside judges from District V were invited to the two productions and later met with students and faculty to discuss the shows. Their critiques were then used as the cornerstone for the award judging.
"We really did well," said Theatre Professor Sheila Tabaka. "There were 1,500 people in attendance — students, faculty and staff, and we held our own against schools like the University of Nebraska, Iowa State and Minnesota State Mankato. I was proud of our students."
Related Articles