Essay Winner Takes Interesting Path
Published
Friday, January 23, 2015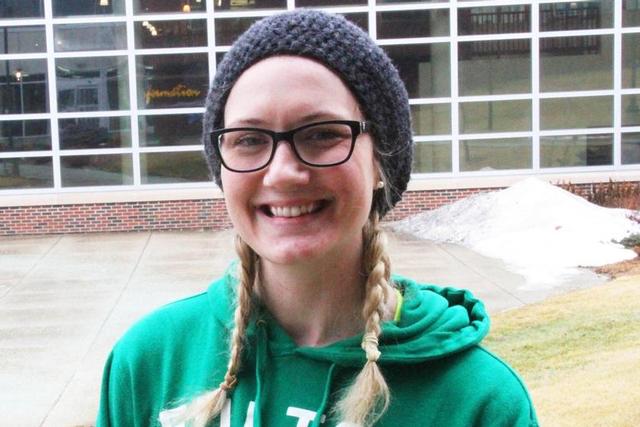 Gabrielle Cohrs
 It hasn't been an easy academic road for Gabrielle Cohrs in pursuit of her double major in creative writing and graphic design.

The Sanborn, Minn., native and Springfield High School graduate will complete her SMSU academic career this coming May. But hers is something of an unusual success story.

She has been in the Air Force Reserves for just under nine years, which has included a trio of deployments. Her unit is based out of the Twin Cities, and she is a medical evacuation technician. "It's like an EMT. I was deployed to Germany," she explained. "We would fly to Afghanistan, pick up patients and bring them back to Andrews (Air Force Base)," she said.

"The professors have been very supportive of me," said Cohrs, the daughter of Edward and Roxy Cohrs. "They want to see me succeed. I just got back from deployment, and they worked with me closely. It has helped me, as a student, step back into classes. They've done a good job of supporting me."

SMSU has been named, for the second straight year, a Military Friendly Campus, and has also been designated a Beyond the Yellow Ribbon Campus. Both designations honor SMSU for its commitment to veterans and their families, and the efforts being made on behalf of veterans within the SMSU community, and the region.

Cohrs was recently named the winner of the Telling Women's Stories contest for her story, "Dämmerschlaf: A Time of Twilight and of Sleep." The contest is a part of the upcoming March Women's History Month activities, and she will read her story at a reception for the three winners.

"Dämmerschlaf" is a German word which, translated, means "twilight sleep." "It was a drug to put women to sleep when they were in labor. They were supposed to be able to wake up and not remember, but it turned out there was a lot of trauma associated with it — sometimes the women had a disassociation with their child. It was right around the 1930s into the '50s. They were still lucid an all, but once they woke up they weren't supposed to remember (the birth). It was like a 'roofie' — an early form of an epidural," she said.

Her winning story is based loosely on the experience of her grandmother, Mildred Cohrs, who was given the drug during the birth of her father, Edward. "I stumbled upon it," she said. "It's not true, but it is true. It's based off of family history."

The story is about a woman in the delivery room being attended to by two nurses. One is an older, jaded nurse and the second, a younger nurse coming to grips with the treatment of the mother-to-be by the older nurse, and the doctor, once he arrived in the delivery room.

Writing the story was not an easy task. "In some parts, it was tough," she said. "For me, it was harder to read it. I read it for a portfolio reading and my dad was there. I was disassociated when I wrote it, I had to be or it would have been too melodramatic."

The Telling Women's Stories contest had 15 entries this year, the most in the six-year history of the event. Second place went to Madeline Robertson, and third to Macy Violett.
Cohrs selected SMSU because of its location — close enough, yet not too far. "I had two older sisters go to Southwest, too (Danielle Taylor and Bridgette Bertrand). I was familiar with the campus."

She thought, originally, she would go into art education. She took College Now concurrent courses in high school, "and I decided I had so many English and art credits, it worked out for me. I found two passions, and realized I could double major in them."

She is married to Andrew Rohlik and they live in Sanborn. She plans on taking a break from school for a bit after graduation. "I've been applying to publishing companies, and I'll be doing freelance work on logos, prints and graphic design," she said. "I seem to do better when I have breaks, I can wrap my mind around things. I'd like to get my master's and Ph.D., and maybe go on to teaching, perhaps," she said.