Alumnus Rudolph Making a Difference in Education One of the latest inductees into Hall of Honor
Published Monday, February 02, 2015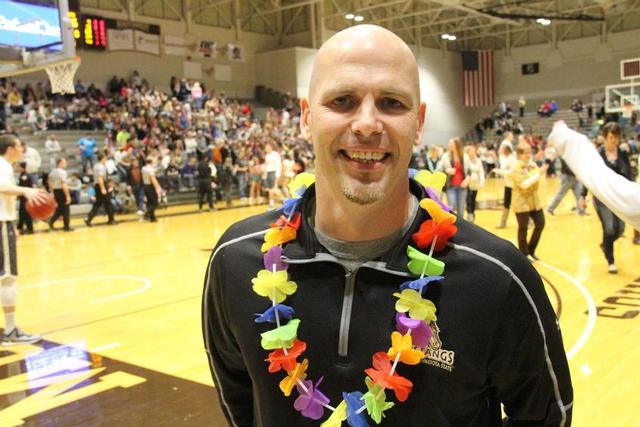 Nate Rudolph
When Nate Rudolph was student teaching as a senior at SMSU, the teacher he was assigned to was Bruce Remme. At the time, Remme — now the Activities Director at Marshall High School — was a third-grade teacher in the Marshall system. A more organized individual than Remme you won't find. That type of commitment and preparation rubbed off on Rudolph, who was inducted into the SMSU Hall of Honor last Saturday.
Rudolph is the principal at Sauk Rapids-Rice Middle School. He earned his undergraduate degree in Elementary Education in 2000, and then got his master's in Education from SMSU in 2003. He is currently pursuing a doctoral degree.
A football player, Rudolph was recruited to SMSU by then-head coach Brent Jeffers, along with his successor, Ron Flowers. He played both inside and outside linebacker, and still holds the record for career solo tackles, 199, and is third with 356 total tackles, and third in tackles for loss, 40.
"I learned so much about doing things the right way at SMSU," he said. "Throughout our football experience we struggled from time to time, but everything was above board and ethical. They stressed hard work, and buying in to that. The coaches I had believed in me probably more than I did. They pushed me. I was in a community, surrounded by people that cared about me. You don't find that in many places."
He is in his 15th year at Sauk Rapids, a town he describes as a bedroom community of St. Cloud. He met his wife, Gina (Duame), at SMSU. "She was a volleyball player, originally from Nassau, Bahamas," he explained.
Both landed jobs in the Sauk Rapids school district, where Rudolph taught in the elementary grades for eight years before making the transition into administration.
"We went to a dean model here. In some districts, instead of an assistant principal, they have an administrative dean. It's the same types of job," he said. "The principal encouraged me to put in for that. I got an interview and was offered the job," he said.
He began pursuit of his principal and superintendent licensure at that point and when the middle school principal retired, he interviewed for, and was offered, that position. He's been the principal at Sauk Rapids-Rice for three years.
Sauk Rapids-Rice Middle School has 1,000 students and consists of grades six through eight. "We have just one high school. We have three elementary schools which funnel into one middle school," said Rudolph.
Sauk-Rapids-Rice is in the first year of a three-year technology initiative. All high school students received a laptop this year. Next year, "it looks like it will be tablets in the Middle School, and then in the elementary grades the year after that," he said. "We had old technology, so we came up with a plan. We have a great business manager too (to figure out how to pay for it all)."
Rudolph said a career in education was a good choice for him. "It's an exciting time," he said. "We have an opportunity to provide an education for every student. Today, we have such a diverse population of students coming to us with different needs. We've been talking a lot within the community, about how to foster creativity, communication skills and collaboration to prepare our students for what is becoming a new life. Gone are the days of the factory work model in preparing our students to be one thing and all fit within the same box. We have to prepare them to be global learners, global collaborators."
Rudolph is a Trimont native who prepped at Martin County West. He redshirted his first year at SMSU. He started his career as an agribusiness management major, "then I really got connected with leadership and the whole idea of mentoring others. I was surrounded by good coaches and teachers, and switched majors after my first year to elementary education."
They love Sauk Rapids, the community, and the school district. Nate and gina are the parents of three children: Mason, 10; Isabella, 8; and Tylee, 5.
He's very honored to have been induced into the Hall of Honor. "It's exciting and humbling," he said. "Football is a 'we' game, not a 'me' game. I could not have had any of my accomplishments without that 'we' attitude. SMSU was a great place for me. It's the cornerstone of what I am professionally today."
Related Articles