GOLD College Kickoff March 4
Published Thursday, February 05, 2015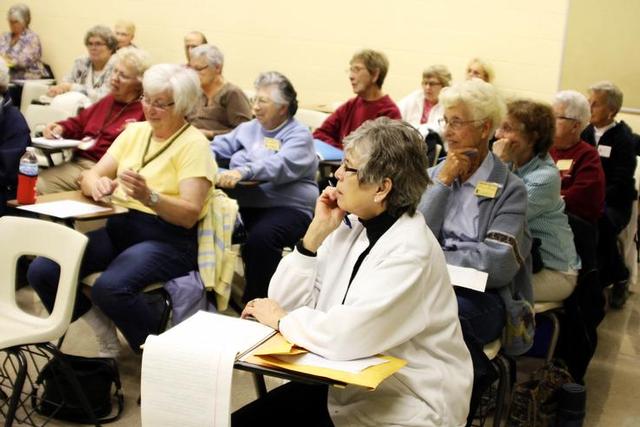 GOLD College Kickoff
Hege Herfindahl will be the keynote speaker at the GOLD College spring kickoff event at 2:15 p.m. on Wednesday, March 4 in Charter Hall 201 on the campus of Southwest Minnesota State University.
The spring session of classes will run from March 9 through April 17. GOLD College is open to all individuals and features non-credit courses over a broad spectrum of interest areas.
Herfindahl grew up in Oslo, Norway during the time it was occupied by the Germans. She will share her story of living in constant danger, when terror and uncertainty were a way of life. She moved to the U.S., to a farm near Benson, Minn., and taught English, German and Norwegian as a schoolteacher. Now retired, she writes for two local weekly newspapers.
The kick-off begins with registration and refreshments from 2:15-3 p.m. The program begins at 3 p.m., and includes an overview of GOLD College and meetings with the study group leaders. At the end of the program the "Go for the GOLD" award will be presented.
To register or for additional questions, please contact Marcia Beukelman, 507-537-6251; Marcia.Beukelman@smsu.edu.
GOLD College classes this session include:
Mondays
Legendary Crooners, 9:00-11:00 a.m., Jim Tabaka instructor. From the late 1920s through the early 1930s, radio crooners were the most popular performers in America. They offered their audiences a singing lover, one who was sophisticated, romantic, vulnerable, and, most important, accessible to them in their home with a mere turn of the dial. Travel back in time as we explore the swooning sounds and captivating lives of such legendary crooners as Bing Crosby, Rudy Vallee, Russ Columbo, and others.
The Second World War, 11:30 a.m.-1:30 p.m., Dr. Mike Hofstetter, instructor. This class will be an overview of the Second World War. It will traces its origins in the unstable world left by the First World War, discuss the outbreak of war in Europe and Asia, and discuss the strategies employed by both sides.
Drawing, 2:00-4:00 p.m., Allen Ness, instructor. Drawing — anyone can do it! Explore the mediums — charcoal, graphite, pen and ink, pastels, colored pencils or even watercolors and make one your own! Students will need a set of charcoal pencils, an assortment of vine charcoal and a sketchbook available at the Barnes & Noble Campus Store.
Tuesdays
Put Life Back in Your Life, 9:00-11:00 a.m., taught by Prairie Home Hospice. Living Well with Chronic Conditions helps participants with ongoing health conditions such as arthritis, diabetes, high blood pressure, anxiety and heart disease. It also addresses better ways of dealing with or managing pain, fatigue, nutrition, medications, strength and energy. The program covers a new topic each week and provides opportunities for group problem solving!.
The Science of Agriculture, 9:00-11:00 a.m., Janet Vandendriessche, facilitator. Learn about the science and technology our local farmers utilize each crop year to provide food for the consumer. Each week we will have local industry experts talking on yield enhancing opportunities through crop and soil management, on product development initiatives, on seed development, on technology in farm equipment and on marketing their products. We will explore many of the process and products that go into a successful farm operation.
The Mind/Body Spirit Connection, 11:30 a.m. -1:30 p.m., Leonard Medrud, Instructor. Why do we think the way we think? Why do we feel the way we feel? Why do we believe what we believe? How can we manifest the life we really want to live? In this highly interactive course, we will explore the connections between mind, body, and spirit, and how the interplay between these three separate, yet connected segments of our lives works with one another. By developing an understanding of these connections we can improve the ultimate quality of the life experiences we have!
Vietnam War Experiences, 2:00-4:00 p.m., Dr. Jeff Kolnick, instructor. This course examines the experiences of Vietnamese and American women and men as they endured the Vietnam War. Some background on Vietnam as a country will be given and we will look at the key events that led to American involvement. Along the way, we will explore the lives of decision makers, soldiers, family members, and citizens who opposed the war in our effort to understand this epoch in American and world history.
Wednesdays
Whimsical Carving in Cottonwood Bark, 9:00-11:00 a.m., Don Fischer, instructor. Class participants will design and carve their own whimsical houses, wood spirits, and/or panorama scene in cottonwood bark. It will be essential that the participant has had some carving experience, and bring their own tools to the class, but some tools will be available for use. The cost of materials will range from $3.00 to $10.00.
Intermediate iPad Class, 11:30 a.m. -1:30 p.m., Chuck Myrbach, instructor. In this intermediate iPad class, you will learn tips and tricks to get the most out of your iPad, plus you will discover some great apps. Pages, Keynote and Numbers will be covered and must be installed with updated iOS8.1.2 on your device. We will also cover topics such as the iCloud, best ways to search for apps, transferring photos between devices, advanced settings and the newest iOS features and gestures. This is not for beginners; limit 12 students.
The Vikings — Raiders or Traders, 11:30-1:30 p.m., Marie Henricksen, instructor. Who were those bad guys and how did they get that reputation? Were they really so bad? Why were they able to range so far? What was life like in the Viking world? What were their foods, leisure activities, homes like? How did they govern at home? How are they a part of our lives today? Join us as we learn and experience the Vikings' way of life.
Tai Chi Chuan, 2:00-4:00 p.m., Sue Morton, instructor. Tai Chi Chuan ( tie jee quan) is a gentle moving meditation based on the martial arts. It combines slow motion martial arts movements with circulation, breathing and stretching techniques. Tai Chi improves physical and mental strengths, balance, posture, joint movement, range of motion and coordination. It may be done in a seated, standing or moving position.
Thursdays
Media Influence, 9-11 a.m., Anthony Hurst, instructor. The study group on Media Influence will be structured so that participants can examine and enhance their media literacy. That is, participants will consider their own media consumption and how that influences their perceptions of the world. In this course we will specifically look at the historical context of American mass media in the 20th century, as well as considering important topics such as propaganda, public relations and journalism. We will also compare and discuss the impact of visual versus text-based media, especially in light of the growth of digital.
Health Care Topics, 11:30 a.m. -1:30 p.m., Avera Medical Group, facilitators. Learn from different experts about diseases, treatments, technology and advancements in the world of healthcare including weight, eye health, behavioral health, advanced directives and orthopedics.
The Twenties and Thirties, 11:30-1:30 p.m., Dr. Lloyd C. Petersen, instructor. The war to end all wars had finished. After World War I, everyone knew there would never be another war. How did the United States change as a result of the war? In this class we will look at the changes from prohibition agents to sports heroes, and from the wealth of the 1920s to the depression of the '30s.
America Women's History through Biography, 2:00-4:00 p.m., Dr. Joan Gittens, instructor. This class will look at some of the important developments in American Women's History through the life stories of notable American women like Abigail Adams, Elizabeth Cady Stanton, Jane Addams and Eleanor Roosevelt.
Fridays
Our Changing Environment, 1:00 p.m.-3:00 p.m., Dr. Thomas Dilley and Dr. Emily Deaver, instructors. This course will explore the various ways our environment is changing on both a global and local scale. Environments are always changing on Earth and we must understand natural processes in order to assess human impacts on the environment. Using both global and local examples, topics to be discussed include: the interaction of Earth's various spheres, climate change, energy resources, population issues, and the connections of human society and the environment.
Related Articles