Student Newspaper, FOCUS Editions Digitally Archived Searchable Feature Will Help Friends of the University Look Back at SMSU History
Published Thursday, February 05, 2015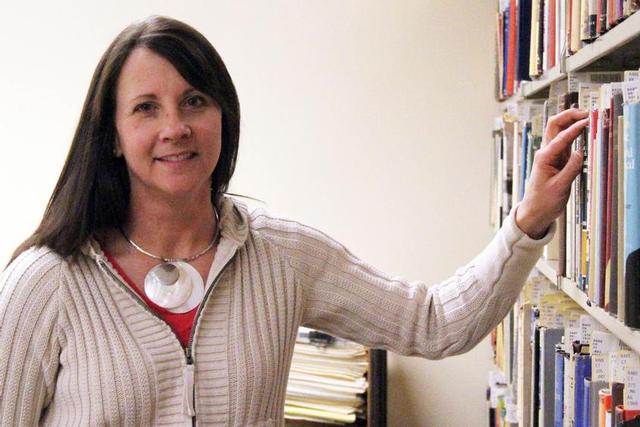 Pam Sukalski
Digital archives of many past Southwest Minnesota State University student newspapers and the FOCUS alumni magazine are available online now, thanks to a project by McFarland Library personnel led by Pam Sukalski.
"It's really the culmination of a lot of work by a lot of people," said Sukalski, instruction/web services librarian.
The website address is: archives.smsu.edu. There is a direct link to the site, also, on the Alumni and Foundation pages.
"It's not fully completed yet, but we've got a good start, and we're happy with where it's at in these early stages," she said.
The project came about by chance two yeas ago when university librarian Kathleen Ashe received an inquiry from PALS, a program of the Minnesota State Colleges and Universities system, asking if SMSU would be interested in serving as a beta site for an open source digital repository software product they were exploring.
Digital archives had been on the library's radar for a few years, so when Ashe brought the opportunity up to Sukalski, she jumped at it. "It was free to us that first year as we worked closely with PALS to test the software, and we then received an SMSU Foundation grant for the second year. The Foundation has also committed to the cost of our next annual contract, as well."
Scanning of the newspapers took a special large-format scanner on campus, and that work is being completed by library technicians Peggy Anderson and Kristi Petersen.
A marathon begins with a single step, and that's the approach Sukalski took in the early stages of the project back in the summer of 2013. "The initial beta project was loading the FOCUS alumni magazine issues, and since moving ahead with the system the project has been loading the student newspapers," said Sukalski.
"We don't have every edition of the student newspaper scanned. We started with just the loose editions we had — and we had boxes and boxes of them. We have most of them in bound volumes, but I don't want to have to snip those until I have to, just to fill in the gaps."
The newspaper has had four names over the years – Impact (twice), Reader and the current Spur. Archives are housed in the Striegel Archives, on the fifth floor of the McFarand Library. It is in that climate-controlled room that many important university historical documents are housed. Sukalski manages the archives.
The software has the capability to stream video, audio and photos, also. "We haven't begun to touch what it can handle," she said. "Obviously, the more you do, the more storage you will need o the servers, and the more the cost is associated with that space.
"One of the neat features is that it has optical character recognition — OCR — that is searchable throughout all of newspapers and alumni magazines. If you wanted to search John Doe, type that in, and it will bring up all references in all of the papers or FOCUS magazines in the database," she said. "Alumni are going to like that feature. They can be in California and search from there about a particular subject or person from their days at SMSU."
Sukalski is an Alvord, Iowa, native and 1995 SMSU alumna with a degree in English Literature. She worked in the library as a student, and upon graduation, immediately enrolled in a master's program for library information science at the University of Iowa. She would later receive a second master's, in education leadership, with a technology emphasis, from Minnesota State University Moorhead.
She is in her second stop at SMSU, having worked at the university from 1999-2001. The has also been a media specialist for Marshall Public Schools (k-8) and the distance learning librarian at Minnesota West Community and Technical College.
Sukalski has served as the shepherd for this project, one that will benefit anyone with an interest in the history of the university.
"This is a great opportunity to help us connect with alumni and friends of the university," said Mike VanDrehle, alumni director. "This will now give our alumni all over the globe the ability to go back into the student newspaper archives during their time at SMSU. And as our alumni base grows, so, too, is the interest in the FOCUS magazine. It's another way for our office to connect with our alumni."
Sukalski is quick to give credit to others. "(Webmaster) Alex MacArthur did just a great job designing the page, and Peggy and Kristi have done so much scanning work. This is a project that has been a lot of fun for me, learning so much about the university's history."
Sukalski is the mother of two children, Brooklyn, 14, and Bellamy, 11.
Related Articles