4 SMSU Students Picked for Honor Band
Published
Wednesday, February 18, 2015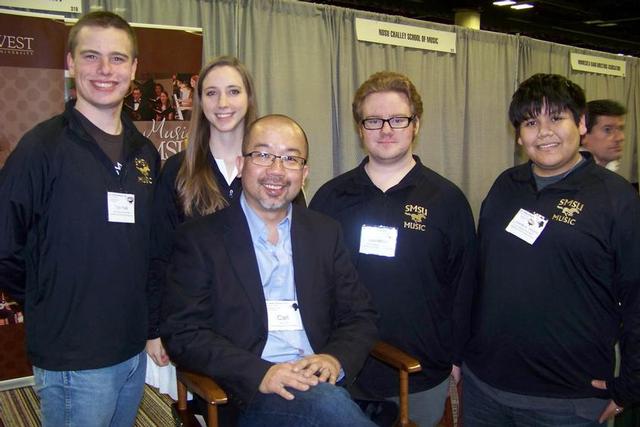 Back left: Tyler Falk, Melanie Lee, John Miller, and Armando Altamirano front: conductor, Carl Choi
 Four SMSU Southwest Minnesota State University students were selected for the Minnesota Intercollegiate Honor Band at the recent Minnesota Music Educators Association Midwinter In-service day in Minneapolis.

The four included:
• Armando Altamirano, a freshman Music Education major from Madelia, Minn.;
• Tyler Falk, a freshman Music Education/Physical Education-Sports Management major from Andover, Minn.;
• Melanie Lee, a senior Music major from Marshall; and
• John Miller, a freshman Music major from Stacy, Minn.

The four rehearsed for seven hours on the first day, three on the second before performing at the conference on Feb. 14.
SMSU took 16 students to the event, the largest gathering of music teachers in the state each year and one of the key professional development events for music educations.

The students attended as part of the MMEA Assistantship program, started in 2007 as an effort to introduce SMSU students to the wider music community. It is supported each year by a grant from the SMSU Foundation.

While at the conference, students attended educational sessions on pedagogy and rehearsal strategies as well as concerts by middle school, high school, college and community music ensembles from around the state.

"Student exposure to professional development in music education has contributed to a stronger and more vibrant music program at SMSU," said Director of Bands Dr. John Ginocchio.

This year's Honor Band conductor was Maestro Carl Choi, music director and founder of the Hong Kong Festival Wind Orchestra. As a host for this year's guest conductor, SMSU had the opportunity to have him come to SMSU and work with the SMSU Symphonic Chamber Winds, and some individual students, as well.