Forensics Team Wins State Championship Taking Home Title on Home Campus Gratifying for Team
Published Monday, February 23, 2015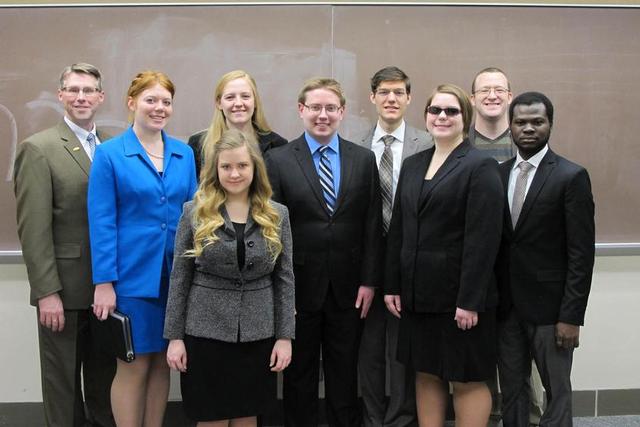 The state championship SMSU forensics team
State champions!
The Southwest Minnesota State University forensics team captured the championship in the Limited Entry Team Sweepstakes division at this year's Minnesota Collegiate Forensics Association State Championship Tournament.
The competition was held Feb. 21-22 on the campus of SMSU.
Seven students represented SMSU in the competition. They were led by Nick Dorman, a senior from Marshall, Minn., who placed second in Informative Speaking; third in Communication Analysis; fourth in Dramatic Interpretation; fourth in Oratory; and fifth in Prose Interpretation.
Also competing for SMSU were:  
Ryan Bartz, senior, Sioux Falls, S.D.;
Megan Bruns, sophomore, Maple Lake, Minn.;
Emilie Baartman, sophomore, Brandon, S.D.;
Sydney Stewart, freshman, Rockford, Ill.
Breanna Klumper, freshman, Trosky, Minn.; and
Okeleamaka Chukwuyem, freshman, Marshall, Minn.
"I'm overwhelmingly proud of our students," said Director of Forensics Mark Fokken. "I'm particularly proud of the fact they set a goal and achieved it. The students worked so hard, and our assistant coach, Ben Walker, really put in his time throughout the year to help them all improve."
Fokken called Dorman's tournament one in which "everything came together. It was the best collegiate performance he's had. He made it into the final round of all five of his categories. And to do it on his home campus, in the same room where he had (classes during the year), was really special."
Dorman also finished fourth in the individual sweepstakes competition, which ranked all students in both classifications, regardless of team size.
The Limited Entry classification refers to the number of students participating for each school, not the size of the school. "For instance, in second place in our division was the University of Minnesota," said Fokken.
Six schools competed in the Limited Entry division. Just over 100 students participated in the two-day event. Gustavus Adolphus won the Open Sweepstakes category.
The memory of the weekend will stay with Fokken, he said, but two things particularly stand out. "First, at the banquet, we have a tradition of each school saying farewell to their seniors and anyone else in the program that's leaving. We had two, Nick Dorman and Ryan Bartz, and that was a particularly touching time for me. I got to speak about their accomplishments and growth as professionals.
"The second was seeing my students accept their sweepstakes award. Those were two intangibles you can't put a price on."
Related Articles