SMSU Representatives Head to Taiwan
Published Tuesday, March 10, 2015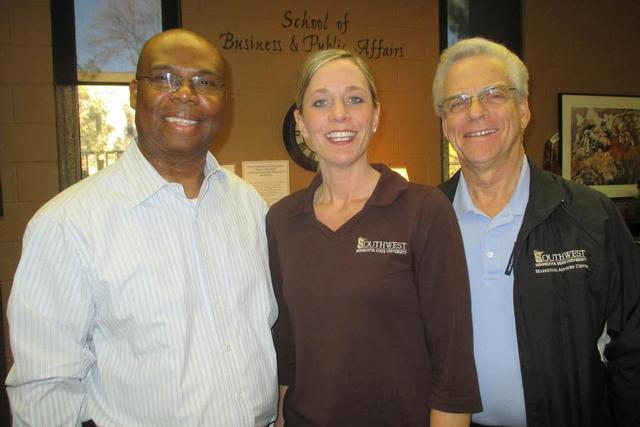 From left: Raphael Onyeaghala, Cori Ann Dahlager, Mike Rich
A trio of SMSU representatives will travel to Taiwan from March 14-22 to assist in final preparations for a third group of Taiwan MBA students who will attend the university this coming fall.
This will mark the third, and largest, group of Taiwanese MBA students yet. The first year, there were 21 who came to SMSU. That number increased to 37 this year. This coming year, 54 students are expected to earn their MBA degree from SMSU.
The Taiwanese students will arrive in Marshall this coming August. They began their MBA studies in Taiwan, and will complete their coursework at SMSU. They will take eight courses — three in the fall and spring semesters, and two in the summer of 2016.
The students come from five colleges in Taiwan.
Representing SMSU will be Cori Ann Dahlager, Graduate Office Director; Dr. Raphael Onyeaghala, Dean of the College of Business, Education and Professional Studies; and Mike Rich, Marketing Professor and Director of the MBA program.
"We want to sustain and grow our relationship with the Taiwan universities, and at the same time explore other areas of cooperation," said Onyeaghala. "Having the students come to SMSU also brings diversity to campus, and to the city of Marshall."
"We're happy that this partnership is working out," said Dahlager. "SMSU is the type of institution they were looking for, and we hope to grow this partnership in the future."
Related Articles