SMSU to Host Gallery Walk March 23
Published
Tuesday, March 10, 2015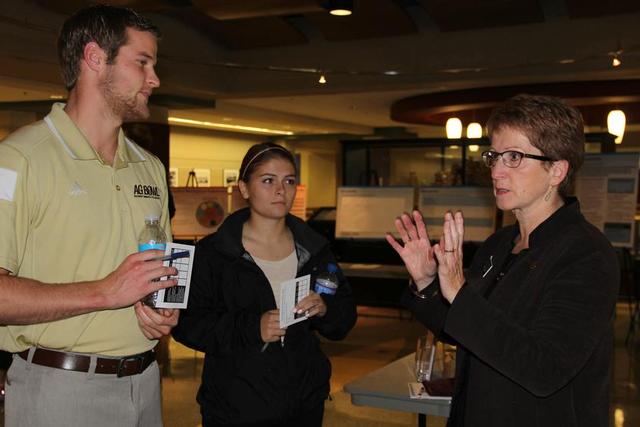 President Gores at last fall's initial Gallery Walk
Southwest Minnesota State University will host a second Charting the Future Gallery Walk on Monday, March 23 from 11 a.m.-2 p.m. in Bellows Commons on campus.
The Gallery Walk's purpose is to get feedback about the work of the Academic Planning & Collaboration, Competency Certification & Credit for Prior Learning, Education Technology, and Information Technology Systems Design implementation teams.
"This is the second Gallery Walk that we will host and it's important that our campus and greater Marshall communities give feedback that can be used as each of the categories is refined," said SMSU President Dr. Connie Gores. "Input from the four categories at the fall Gallery Walk proved to be extremely valuable to the first wave of implementation teams, and we hope to receive as much input on the work of these remaining four areas in this second Gallery Walk."
Last fall, SMSU hosted a similar Gallery Walk and provided feedback on the work of the Student Success, Diversity, Comprehensive Workplace Solutions, and System Incentives & Rewards implementation teams.

The eight teams and the Gallery Walks are all part of Charting the Future, the Minnesota State Colleges and Universities strategic planning process. The eight implementation teams were formed to act on six recommendations developed with input from more than 5,000 students, faculty and staff and adopted by the Minnesota State Colleges and Universities Board of Trustees in November 2013.
President Gores has headed the Student Success implementation team since Charting the Future was announced.
Teams featured in the Gallery Walks last fall are currently in the process of reviewing their Gallery Walk information and refining their initial ideas and concepts. Teams featured in the Gallery Walks this spring are expected to receive their Gallery Walk feedback in May and will review and make refinements to their initial ideas and concepts over the summer and in early fall.
More information will be available at www.Chartingthefuturemnscu.com as work on Charting the Future continues. In addition, individuals may provide feedback online (through March) at: MyIdeas@minnstate.edu, or follow @mnscu and use #ChartingTheFuture.