Linda Nelson Receives MnSCU Award
Published
Sunday, March 22, 2015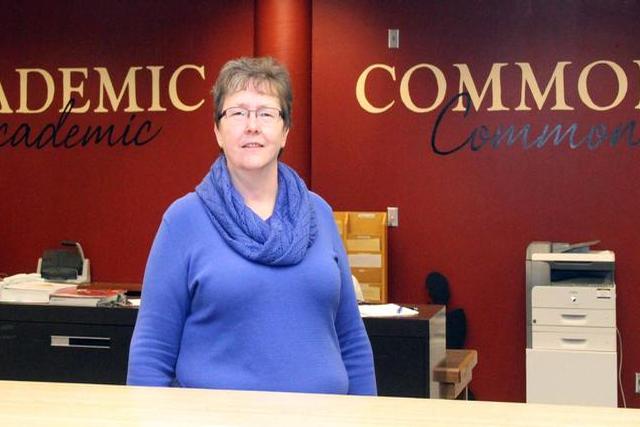 Linda Nelson
Linda Nelson, Director of Academic Commons at Southwest Minnesota State University, has been honored with a Minnesota State Colleges and Universities Board of Trustees Professional Excellence Award for Administrative Service Faculty.
This is the first year for the awards. Linda will join five other honorees at the board's Celebrating Excellence luncheon April 22.
The award is presented to a university service faculty member to acknowledge and reward exceptional individual and professional accomplishment and to encourage ongoing excellence.
"I'm really humbled to receive this honor," said Linda. "I am an alumnus of SMSU, I love this university."
Linda began at SMSU in 1992 and has worked as a Learning Specialist in Learning Resources; Assistant to the Director of the Global Studies Program; an adjunct instructor; an advisor; and as Director of Academic Commons, a position she has held since 2000.
As Director of Academic Commons, Linda's two primary responsibilities include coordinating the operations of the Academic Commons study center, which includes hiring, training and supervising interdisciplinary peer tutors and work study-eligible students to oversee the front desk, and oversight of the Educational Opportunity (EOP) First-Year Experience program, which supports provisionally admitted students.
She also oversees the Assessment for College Placement and Accuplacer testing, and provides test proctoring for the Testing Center.
Former Provost Ray Lou was the one who came to Linda with the idea of creating the Academic Commons area. "What Ray wanted was a one-stop place students could come to relax, work together and receive academic help. He wanted me to make it relaxing and homey, so that students would want to come."
Seeing SMSU students succeed is what drives Linda every day. Her ability to advise and pair students with advisors has contributed to student success and helped increase student retention. She has been instrumental in helping students acclimate to college life.
Linda goes about her business in a very professional, unassuming manner and does not seek the spotlight.
Other individuals receiving Service Faculty Professional Excellence awards include Shahzad Ahmad, Director of Multicultural Student Services, St. Cloud State; Elizabeth Evert Karnes, Managing Director, Roland Dille Center for the Arts, Minnesota State University Moorhead; Michelle Frenzel, Registrar, Bemidji State University and Northwest Technical College-Bemidji; Linda Meidl, Student Relations Coordinator in the College of Business, Minnesota State University, Mankato; and Jillian Quandt, Associate Director, Tutoring Services, Winona State University.