Olga Reuvekamp Named MARL Executive Director
Published Wednesday, March 25, 2015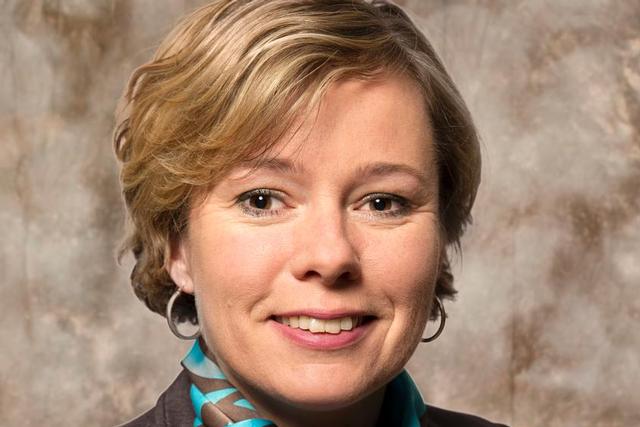 Olga Reuvekamp
Olga Reuvekamp has been named the executive director of the Minnesota Agriculture and Rural Leadership program at Southwest Minnesota State University.
Reuvekamp has been the program director of the South Dakota Agricultural and Rural Leadership (SDARL) program since 2012 and is a Class VI graduate of that program.
A Netherlands native, she has a bachelor's degree in Elementary Education and earned an Agriculture Economics for Farming Partners certificate.
Reuvekamp and her family — seeking greater farming growth opportunities than existed in The Netherlands — moved to Elkton, S.D. in 2006 when they purchased the Hilltop Dairy. She is financial and human resources director for Hilltop Dairy. She was an elementary classroom teacher in The Netherlands from 1994-2006.
As managing partner at Hilltop Dairy and in her position with SDARL, much of her responsibilities have revolved around marketing and communications. She has experience in curriculum development, seminar coordination and event facilitation. She is an experienced web designer, with fundraising and recruiting experience.
"I am excited to take on a new role within the region's agricultural and rural leadership as the executive director of MARL. As program director and a passionate alumnus of SDARL in South Dakota, I am familiar with the Minnesota program. Through farming and involvement as an industry leader, I see great opportunities in Minnesota's diverse and strong agriculture, and the future of its rural communities," she said.
The MARL program is a dynamic leadership development program for active and engaged adult agricultural and rural leaders in Minnesota. Every two years, a class of approximately 30 participants is selected. Each class has approximately two-thirds of participants involved in production agriculture, and the remaining one-third are business, civic, government and organization leaders in rural Minnesota agriculture.
"Olga brings with her valuable experiences from SDARL, a professional network of ag industry leaders and a strong desire to grow and build upon the success of the MARL Program," said Bill Mulso, Vice President for Advancement and Executive Director of the SMSU Foundation. "We are excited about the unique experience and perspectives that she will contribute, and we look forward to having her join the MARL team as executive director."
Reuvekamp and her husband, Wilfried, are the parents of three children: Els, 17; Thijs, 15; and Wim, 13.
She begins her duties on April 14.
To learn more about the MARL Program, visit the web site: www.MARLprogram.org.
Related Articles