SMSU Community Supports Nepalese Students
Published
Monday, April 27, 2015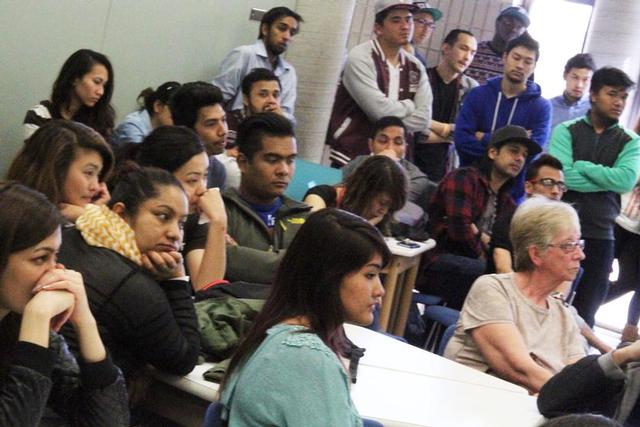 SMSU Nepalese Students
SMSU junior Krishna Ghimire hasn't heard from her best friend in Nepal since the devastating earthquake there that has killed over 2,000 people.

And with two weeks of school left, and finals approaching, that's the last thing on her mind. 
"I've tried to reach his parents," she said following a meeting of the SMSU community and Nepalese students on Monday, April 27 to discuss the situation. "I haven't heard anything yet.
She is from the Basantapur area of Kathmandu, the nation's capital and most densely populated city. "That's where all the (cultural) monuments are, over 500 years they have been there and it's a part of my childhood memories. They're gone now," she said.
SMSU has 65 international students from Nepal, out of an international student population of 135. Each one has family or friends affected by the earthquake, and the not knowing is the hardest part.
"Many of my neighbors died," said Ghimire. "I don't know how to focus. I'm just thankful for the friends I have at SMSU."
Talking about those feelings was a common thread of advice given to the students from personnel from administration and the International Student Services and Counseling & Testing offices during a meeting on Monday, April 27.
Rasna KC, president of the International Student Organization on campus, heard about the quake at 4 a.m. and finally was able to contact her mother six hours later. She said friends of hers were allowing others to sleep in their cars at night, as people are afraid to go back into their homes due to structural damage and aftershocks. Her father is a church deacon and has been setting up a makeshift relief station at the church.
Kal Bhakri, a graduate student in the International Student Services office, said a candlelight walk has been scheduled at 8 p.m. tonight from the Campus Religious Center to Liberty Park.
"The big thing about SMSU is that support that we feel as international students," he said. He asked students to stop by the International Students Services office to talk, a message heard often during the meeting.
Sarah Walker, an alumna who works at House of Hope in Marshall, was there to show her support. "One of my best friends in college was from Nepal," she said. Walker has other friends from Nepal who are currently students.
What can those in the SMSU and greater Marshall community do to help the students? "Don't be afraid to ask," she said. "People are often afraid of offending (international students). Don't be afraid to talk to them, ask how they are doing."
Those wishing to donate to the relief efforts may do so through the SMSU Foundation, to the Nepalese Relief Fund. Online donations may be given through the Lions International website:https://lionsclubs.org/en