Commencement May 9 at SMSU 695 will become alumni
Published Tuesday, May 05, 2015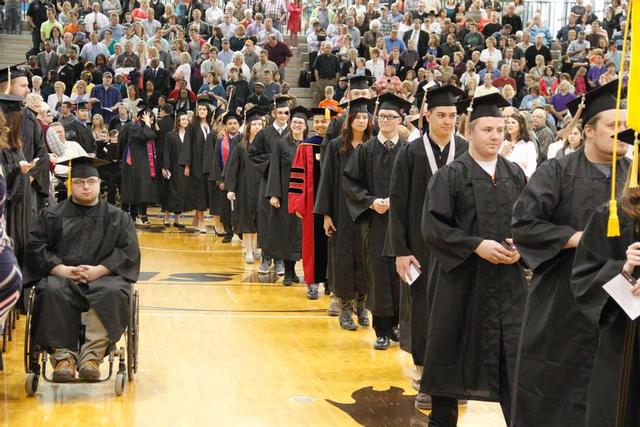 Commencement
A total of 695 Southwest Minnesota State University students are eligible to participate in the 47th commencement exercises at 10 a.m. on Saturday, May 9 in the R/A Facility on campus. 
David Werpy, a 1979 alumnus and the Vice President and General Auditor for 3M Corporate Auditing, will be the commencement speaker.
Marketing Professor Dr. Michael Rich will be honored during the ceremony as the 2015 recipient of the Cowan Award, named after the late SMSU Psychology Professor Cathy Cowan, who was killed in a car accident in December 2001.
One graduating student will be presented the Outstanding Senior Award during commencement.
Retired Associate Professor of Spanish Dr. Elma Dassbach, Assistant Professor of French Diane Leslie, Assistant Professor of Communication Studies Mike McHugh and Professor of English Dr. James Zarzana will be honored with emeritus status.
Music will be provided by the SMSU symphonic band, Dr. John Ginocchio, conductor, and the SMSU Chorale, Dr. Stephen Kingsbury, conductor.
Representing the Minnesota State Colleges and Universities (MnSCU) Board of Trustees will be Elise Ristau.
A President's Reception for graduates, their families and friends will be held on the second floor of the Student Center following commencement.
SMSU National Broadcasting Society members will broadcast commencement live over the local public access cable channels of the city's two cable companies, Charter and Wow. Commencement will also be streamed live on the Web at: www.smsu.edu/eventcenter/livestream.html.
CD's of the ceremony will be on sale at commencement.
Click on the link below for the list of Graduate Students and Undergraduate students.
http://www.smsu.edu/resources/webspaces/commencement/Commencement2015Names.pdf
Related Articles